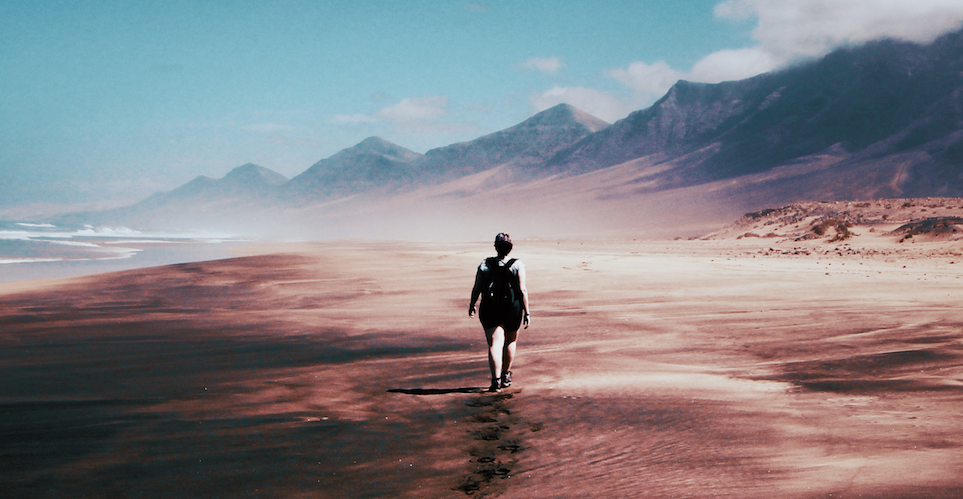 In the third blog of our partnership with Make2ndsCount, we want to share reliable information surrounding the science behind HER2 positive secondary breast cancer, as well as current and future treatments available. Nearly a third of people diagnosed with earlier stages of breast cancer will develop advanced disease1,2. Even though many people are living with secondary breast cancer, it can often feel that it is excluded from breast cancer campaigns. Research has shown that women with advanced breast cancer often feel isolated and 67% of them feel like no one understands what they are going through3,4. In this blog, we will be sharing with you accessible treatments for advanced HER2 positive breast cancer. 
"Every year, an estimated 55,000 people are diagnosed with breast cancer in the UK, of which up to one in five are estimated to have HER2 positive tumours."
– Dr Alicia Okines, Consultant Medical Oncologist at The Royal Marsden NHS Foundation Trust, UK.
What is HER2 Positive Secondary Breast Cancer?
Secondary breast cancer, also referred to as advanced, metastatic or stage IV, is cancer that has spread beyond the breast and nearby lymph nodes to other parts of the body. Breast cancer is usually categorised according to whether the cancer cells grow in response to different hormones or proteins. In HER2-positive cancer, cells over-express the protein HER2 on their cell surface. Around 1 in 5 breast cancer patients test positive for extra copies of the HER2 gene.
What is HER2?
HER2, short for Human Epidermal growth factor Receptor 2, is a protein on the surface of cells that acts as a receptor. Usually, HER2 is involved in the healthy growth and development process of cells, however in HER2 positive cells, there are extra copies of the gene that codes for the HER2 receptor. This leads to an over expression, or over production, of the HER2 protein on cell surfaces which can cause abnormal cell division and growth.  

How do I know if I'm HER2 positive?
A pathologist will test the tissue sample taken from a biopsy to see if there is an over expression of HER2 proteins. Tissue samples are tested for HER2 using a technique called in-situ hybridisation (to find out the details of how this works check out our previous post on how HER2 is measured here). You should be able to find these results in your pathology report. The HER2 results are usually reported in the form of a score: 
-0 or 1+ score of cells is considered HER2 negative

-2+ score is considered inconclusive

-3+ score is considered HER2 positive
Current Treatment Options
We have compiled the treatments available through the NHS for HER2 secondary breast cancer. Current treatments aim to extend survival, maintain good quality of life and relieve symptoms. The treatment chosen depends on the extent of spread and on the previous treatment you've received. 
We will outline and explain each of these treatment options and note whether or not they have been approved by NICE (National Institute for Health and Care Excellence) or by SIGN (Scottish intercollegiate guidelines network). 
NICE is the British organisation that reviews new and existing drugs. In Scotland, NICE guidelines are not applied. They have the Scottish Medicines Consortium (SMC) and Scottish Intercollegiate Guidelines Network (SIGN) which approve new drugs and create guidelines, respectively. Therefore, the drugs available in NHS Scotland may differ to those in England5.
Chemotherapy
The common NHS chemotherapy regimen includes a taxane and an anthracycline. This is known as combination chemotherapy: 
Taxanes include paclitaxel (Taxol®), nab-paclitaxel (Abraxane®) or docetaxel (Taxotere®)

Anthracyclines include doxorubicin (Adriamycin®), epirubicin (Ellence®), doxorubicin (Doxil®), daunorubicin (Cerubidine®) or mitoxantrone (Novantrone®). 
Anthracyclines can be cardiotoxic, meaning they can have a damaging effect on the heart. Therefore, if people are not suitable for anthracyclines (because of previous treatment or the toxicity to the heart) the treatments offered are:
Docetaxel (Taxotere®) followed by vinorelbine (

Navelbine

®) or capecitabine (Xeloda®) after docetaxel. 
Another treatment option is:
Gemcitabine (Gemzar®) in combination with paclitaxel Taxol®) if docetaxel alone or docetaxel and capecitabine are also options6
Capecitabine and gemcitabine are antimetabolite drugs. Antimetabolites interfere with DNA and RNA (genetic material) by acting as a substitute for the normal building blocks of RNA and DNA. When this happens, the DNA cannot make copies of itself, and a cell cannot reproduce7.
After two or more chemotherapy regimes, with an anthracycline or taxane and capecitabine, the drug eribulin (Halaven®) is recommended as a third line treatment8. Please note that eribulin can increase your risk of infection as it lowers your overall white blood cell count, also called neutropenia. It is important to be aware of any potential symptoms of infection such as a fever, a sore throat, cough or diarrhoea. It can also cause increased bruising and bleeding9.
Do you know that you can track your side effects with OWise including neutropenia? With more than 30 side effects and symptoms to choose from, you can track any changes and share these with your care team and loved ones via a secure hyperlink. Having a better communication with your care team can make sure you receive the best care possible.
Targeted HER2 Therapy
Treatments that specifically target HER2 are common options for both early and advanced HER2 positive cancer. These therapies specifically target and block the HER2 receptors on cells, reducing cell growth. They are called "monoclonal antibodies". 
Antibodies are a natural part of your immune system and play a role in detecting when foreign particles, such as viruses or bacteria, are in your body. Antibodies have very specific shapes and bind to antigens (receptors) on cell surfaces which is how they recognise whether a cell is yours or foreign. Monoclonal antibodies are antibodies that are made in a lab that bind to specific antigens (such as the HER2 receptor protein). To find out more details on monoclonal antibodies, have a look at our previous blog.
Did you know: If a treatment ends in the letters "Mab" you know it's a monoclonal body. Mab stands for monoclonal antibody.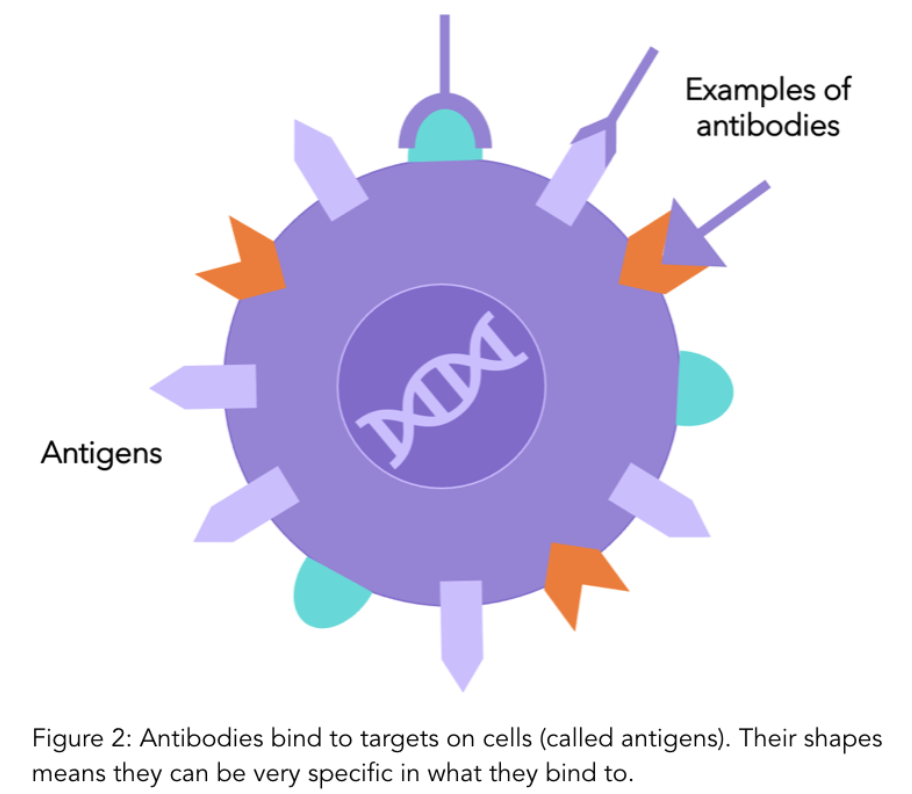 Trastuzumab (Herceptin ®) and pertuzumab (Perjeta®) are monoclonal antibodies used in treating both early and advanced HER2 breast cancer. Trastuzumab (Herceptin ®) alone (monotherapy) is  recommended for people whose cells scored 3+ on HER2 levels and who have previously received at least two rounds of chemotherapy including an anthracycline and a taxane10.
Herceptin® was the original brand name for the drug, however several similar versions (called biosimilars) are now available. Biosimilars for Herceptin® include Ogivri®, Herzuma®, Ontruzant®, Trazimera®, and Kanjinti®. They are clinically identical, with no changes in effectiveness. However, having multiple options on the drug market allows for the driving down of costs. Although practically identical in their treatment against cancer, they should not be used interchangeably and therefore you are commonly prescribed the brand name rather than the generic name10.
"Although patients can access 1st and 2nd line trastuzamab, there is a problem with accessibility to trastuzamab as a 3rd + line treatment in the UK, even though it is standard care in the USA. This highlights an unmet need; patients are not supported enough […] after 2nd line treatment. We need access to these 3rd line drugs that are waiting for approval to stop these inequalities of care across the UK."
-Jo Taylor secondary HER2 patient advocate and founder of ABC Diagnosis & METUPUK
Combination of Chemotherapy and Monoclonal Antibodies
Pertuzumab (Perjeta®) in combination with trastuzumab (Herceptin ®) and docetaxel is also recommended as a therapy for HER2 positive secondary breast cancer in adults who have not previously had targeted anti-HER2 therapy (monoclonal antibody therapy) or chemotherapy11. 
Trastuzumab (Herceptin ®) in combination with paclitaxel can also be recommended for people whose cells scored 3+ levels of HER2 and who have not previously received chemotherapy treatment and who cannot take anthracyclines.
Antibody Drug Conjugate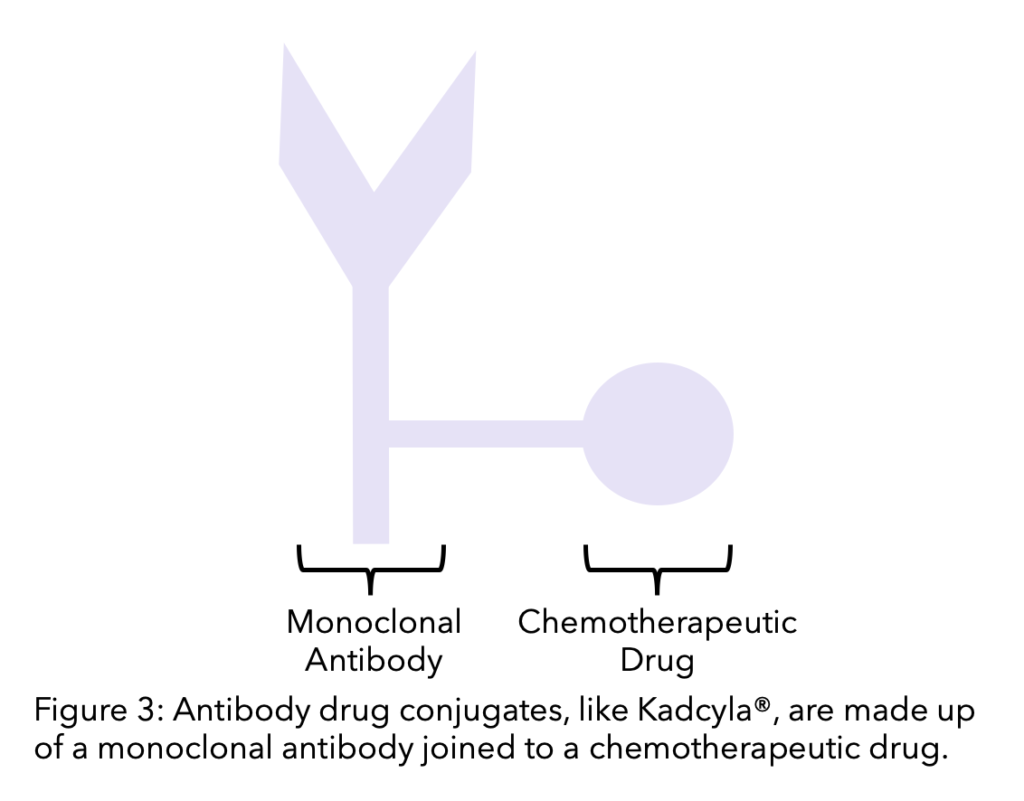 An antibody drug conjugate (ADC) is a monoclonal antibody (such as trastuzumab) linked to a chemotherapy drug. It helps the chemotherapy drug target the cancer cells more specifically, as the monoclonal antibody targets and binds to the cell and the chemotherapy drug becomes active as it enters the cell. This allows chemotherapy to be more targeted and lessens its effect on non cancer cells.
Currently, trastuzumab emtansine (T-DM1 or Kadycla®) is approved by NICE as a second line treatment for people with secondary HER2 positive breast cancer who have previously been treated with trastuzumab and a chemotherapy12. Following a highly positive trial, secondary HER2 positive patients can now also access with a new ADC called trastuzumab deruxtecan (Enhertu®) after one or more previous anti HER2-treatments via NHS England's Cancer Drug Fund31,38,39.
Common Treatment Side Effects
What are the common side effects of Chemotherapy?
Chemotherapy is cytotoxic, meaning it kills cells. Chemotherapy drugs target cells that are dividing, making it more likely to affect cancer cells as they usually divide much more frequently than healthy cells. However, this means that chemotherapy is likely to affect any fast dividing cells whether they are cancerous or not. Hair, digestive linings and skin cells all divide frequently and are therefore more likely to be affected by chemotherapy. This can lead to the following common side effects: 
Hair loss

Nausea, for more information on chemotherapy and nausea check out our previous

post

 

Aneamia 

Vomiting

Skin and nail changes

Fatigue: chemotherapy related fatigue is different to

regular tiredness

Effects on memory and cognitive function: for more information on chemobrain and how to manage it's effects refer to our previous

blog
For more information, Cancer Research UK has a thorough and helpful online breakdown of the most common side effects of cancer drugs which you can find here.
What are common side effects of HER2 Targeted drugs?
Due to their specificity, HER2 treatments affect non-cancer cells less than chemotherapy drugs and have less general side effects. However, there are some common side effects for all HER2 therapies, and specific effects may vary depending on the drug. 
It is well known that cardio toxicity (heart problems) is a common potential side effect of people receiving both chemotherapy and targeted HER2 therapy such as pertuzumab, trastuzumab or T-DM1. Because of this people undergoing HER2 targeted treatments typically have heart monitoring. Treatment should be stopped if left ventricular ejection fraction (LVEF, which is a measure of heart activity) drops by 10% below baseline13.
There are other common side effects to targeted HER2 therapies such as:
Sleep problems

Muscle/joint pain

Redness at the IV site

Diarrhoea

Nausea

Tiredness

Headache

Mouth sores

Loss of appetite

Cold symptoms

Rash
For further details on these side effects and advice on how to manage them, check out Cancer Research UK's page on HER2 therapies.
Metastases
Metastases is the spread of cancer cells to other parts of your body. Common types of metastases in HER2 secondary breast cancer are bone and brain: 
Bone Metastases
If the cancer has spread to your bones, there are treatments that help prevent fractures and other bone related issues, as well as pain management.
Bisphosphonates are therapies that help prevent bone breakdown by making healthy bone denser and less likely to fracture14.There are multiple bisphosphonates available, namely zoledronic acid (Zometa®) and ibandronate (Bondronat®), which can be offered either orally or through injections 15.
A type of monoclonal antibody, which can be offered instead of bisphosphonates. Denosumab's function is the same but it targets a protein that controls cell breakdown in bones. This is in comparison to bisphosphonates which prevent bone breakdown by making the bone denser, causing fractures to be more difficult.
Brain Metastases
As therapies have improved and prolonged survival, brain metastases may develop in up to half of patients with HER2 positive secondary breast cancer16. Please note that this is a higher rate than other subtypes of breast cancer17.  Typically, whole brain radiation and/or surgery is the course of treatment if HER2 positive cancer has spread to the brain.
For those who are receiving targeted HER2 therapy, trastuzumab, treatment should be discontinued if disease progresses and metastases outside of the central nervous system. If the metastases are solely within the central nervous system, trastuzumab treatment does not need to be discontinued18.
Future Treatments for Secondary HER2 Breast Cancer
What are Clinical Trials?
Before drugs and treatments get approved by regulatory bodies, they need to be tested in order for the effects on humans to be known. Clinical trials are scientific research studies designed by doctors and scientists involving volunteers to test if the new treatment is better than the existing one, or whether different combinations of existing treatments are more effective than what is currently used and to see if there are any unexpected consequences to these changes. They are a crucial step in making innovative treatments available to the wider population through the NHS. For example, Herceptin ® (trastuzumab), the HER2 targeted therapy, became widely available on the NHS through clinical trials. With over 2000 breast cancer clinical trials around the world, there are clinical trials targeting all stages and types of breast cancer19.
The decision to participate in a clinical trial is a very personal one and there are often many factors to consider and discuss with your loved ones and care team. It is important to remember that before getting to a clinical trial, treatments are subject to rigorous testing and research. Only after treatments are tested (often in the lab on human cells) and thoroughly reviewed by independent scientists and research ethics committees do treatments pass to clinical trials 20. For more information on clinical trials have a look at our previous blog.
Current Clinical Trials for Secondary HER2 Breast Cancer
In this section we will outline a few recent and ongoing clinical trials investigating different treatments for secondary HER2 breast cancer. These are new treatment pathways or treatment combinations which are being investigated, therefore there are limitations to the amount of data available as well as known impacts of side effects. We have grouped them according to the type of treatment starting with two kinase inhibitors, followed by an antibody drug conjugate and a monoclonal antibody.

Kinase Inhibitors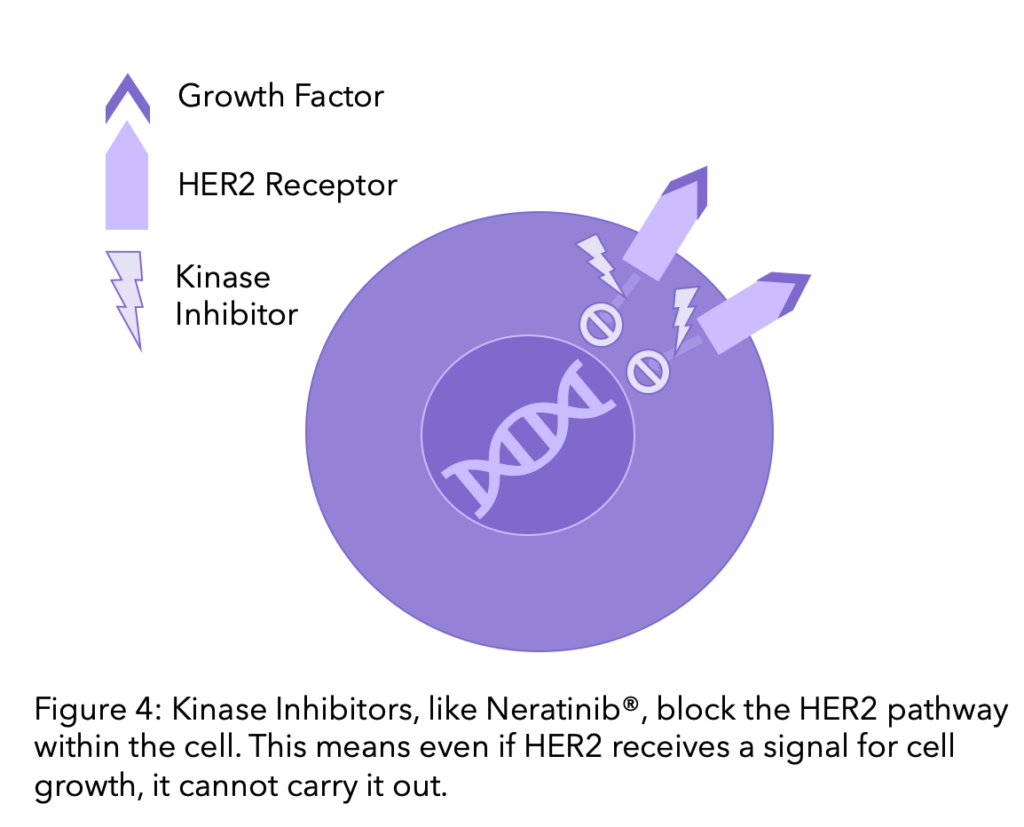 Kinase proteins receive signals for cells to grow and divide or die, HER2 is a type of protein kinase. Kinase inhibitors are therapies that block these pathways. Kinase inhibitors differ from monoclonal antibodies because whilst monoclonal antibodies block the HER2 receptors, kinase inhibitors block the pathway within the cell. Therefore, even if a cell receives a signal to grow this will not be carried out because the pathway is blocked.
In April 2020, the FDA (Federal Drug Agency) in the US approved tucatinib (Tukysa®) in combination with trastuzumab (Herceptin®) and capecitabine to treat HER2 positive, secondary breast cancer for people with or without brain metastases and who have previously had at least two targeted anti-HER2 treatments21. This approval is following the results of a phase II clinical trial called HER2CLIMB 202022. To watch a video of a researcher discussing the trial click here. 
Tucatinib is a tyrosine kinase inhibitor and binds to a different part of the HER2 protein than existing drugs21. It is the only HER2-targeted kinase inhibitor to demonstrate overall survival benefit in patients with secondary HER2 breast cancer, and it is particularly noteworthy that the trial found positive results in people with brain metastases which are a particularly difficult subset of patients to treat16, 21, 23. The HER2CLIMB trial found that the risk of central nervous system progression (such as brain metastases) or death was reduced by 68% compared to women who were treated only with trastuzumab (Herceptin ®) and capecitabine16,24. It is expected to be approved by NICE guidelines in the UK early March 202225. 
Neratinib is another kinase inhibitor which is currently approved for the treatment of early stage HER2 breast cancer in the UK by NICE 26. It is being researched as a potential third line treatment for people with secondary HER2 cancer. In a Phase III NALA clinical trial, neratinib with capecitabine was compared to lapatinib (another kinase inhibitor which targets HER2 pathways) with capecitabine as a treatment for people with secondary HER2 breast cancer in which the cancer had spread to the central nervous system 27. This trial found a 24% reduction in progression or death when treated with neratinib and capecitabine compared with people on lapatinib and capecitabine 28.
Following the results of this Phase III NALA trial, neratinib with capecitabine has been approved by the FDA as a third line treatment for secondary HER2 breast cancer 23. Neratinib in combination with capecitabine is under review by NICE for people with secondary breast cancer after at least two other anti-HER2 targeted drugs have been tried. This should be decided by the end of 2021 by NICE 29. 
It has been noted that the utility of neratinib may be limited in comparison to tucatinib for secondary HER2 patients given the overall survival benefit and lower toxicity found with tucatinib, however it may be useful for people with a heart disease called cardiomyopathy 23.
An important note on potential side effects: some kinase inhibitors, including neratinib and tucatinib can cause liver problems. Regular blood tests will check your liver function, but it is important to check for itchy or yellowing of the skin, dark urine or pain in the right upper belly area30.
Antibody Drug Conjugates
As previously outlined, antibody drug conjugates is a monoclonal antibody linked to a chemotherapy drug.
Trastuzumab deruxtecan (Enhertu

®

) 
Trastuzumab deruxtecan or Enhertu® is an antibody drug conjugate (see above) which has been approved as a second line treatment option for people who have secondary HER2 breast cancer and who have previously undergone at least one targeted HER2 therapy31, 38. This treatment option was approved by the FDA US in 2019,32  and has been investigated in clinical trials called DESTINY-Breast-01 and-0331 33,39. The trial found that treatment reduced tumour size in this group of people and that Enhertu increased the period of being disease free to 25 months instead of 7 months on Kadcyla (T-DM1) 33. However, there were significant side effects recorded particularly a lung related effect called interstitial lung disease (ILD). This prompted the FDA's approval to include a clinician warning to carefully monitor patients receiving this treatment for lung disease21. It has been approved by NICE and is available for people who have had one previous regimens of targeted therapy that have been unsuccessful38. For NHS patients it can be accessed via the Cancer Drugs Fund34, 38 and it is also available as a third line treatment via NHS Scotland.
More HER2 Monoclonal Antibodies
Margetuximab versus Trastuzumab
Margetuximab is a monoclonal antibody which targets HER2 proteins. In an ongoing phase III clinical trial called SOPHIA, margetuximab in combination with chemotherapy is being compared to trastuzumab in combination with chemotherapy as treatments for secondary HER2 breast cancer in patients who have previously undergone at least two or more targeted HER2 therapies. Results have found that margetuximab and chemotherapy reduces the risk of cancer progression by 24% compared to trastuzumab and chemotherapy35. This resulted in a statistically significant improvement in progression free survival in people who received margetuximab compared to trastuzumab 36.
Based on the results of the SOPHIA trial, the FDA approved the use of margetuximab for secondary HER2 breast cancer in December 2020 37.
And that's HER2-positive secondary breast cancers treatments summed up
We hope that you now better understand your treatment options and can feel confident in discussions with your care team. At OWise, we want to make sure you are kept informed so make sure to follow our Instagram and Twitter for any updates. Any questions? Get in touch!
References
Arteaga, C., Sliwkowski, M., Osborne, K., Perez, E., Puglisi, F., Gianni, L. 2011. Treatment of HER2-positive breast cancer: current status and future perspectives.

Nat. Rev. Clin. Oncol.

9, 16–32.

Cancer.org. 2020.

Breast Cancer HER2 Status | HER2-positive Breast Cancer

. [online] Available at:

https://www.cancer.org/treatment/understanding-your-diagnosis/advanced-cancer.html

Novartis.co.uk. 2014.

UK Here and Now patient survey.

[online]

Available at:

https://www.novartis.co.uk/sites/www.novartis.co.uk/files/here-now-patient-survey.pdf

abcglobalalliance.org. 2016. Global status of advanced/metastatic breast cancer [online]. Available at:

https://www.abcglobalalliance.org/pdf/Decade-Report_Full-Report_Final.pdf

Cancerresearchuk.org. 2019. Scotish Medicine Consortium (SMC). [online] Available at:

https://www.cancerresearchuk.org/about-cancer/cancer-in-general/treatment/access-to-treatment/scottish-medicines-consortium-smc

 

Nice.org.uk. 2007.

Gemcitabine for the treatment of metastatic breast cancer [

TA116

] | Guidance | NICE

. [online] Available at:

https://www.nice.org.uk/guidance/TA116

Cancer.org. 2021.

How chemotherapy drugs work.

 Available at:

https://www.cancer.org/treatment/treatments-and-side-effects/treatment-types/chemotherapy/how-chemotherapy-drugs-work.html

Nice.org.uk. 2016.

Eribulin for treating locally advanced or metastatic breast cancer after 2 or more chemotherapy regimens

[

TA423

] | Guidance | NICE. [online] Available at

:

https://www.nice.org.uk/guidance/ta423

macmillan.org.uk. 2021. Eribulin (Halaven). [online] Available at:

https://www.macmillan.org.uk/cancer-information-and-support/treatments-and-drugs/eribulin

 england.nhs.uk. 2015.

What is a biosimilars medicine?

[online] Available at:

https://www.england.nhs.uk/wp-content/uploads/2019/05/what-is-a-biosimilar-medicine-guide-v2.pdf

Nice.org.uk. 2018.

P

ertuzumab with trastuzumab and docetaxel for treating HER2-positive breast cancer

[

TA509

] | Guidance | NICE

. [online] Available at:

https://www.nice.org.uk/guidance/TA509/InformationForPublic

Nice.org.uk. 2018.

Trastuzumab emtansine for treating HER2-positive advanced breast cancer after trastuzumab and a taxane

[

TA458

] | Guidance | NICE

. [online] Available at:

https://www.nice.org.uk/Guidance/TA458

Nice.org.uk. 2006.

Trastuzumab for the adjuvant treatment of early-stage HER2-positive breast cancer

[

TA107

] | Guidance | NICE

. [online] Available at:

https://www.nice.org.uk/guidance/ta107/documents/final-appraisal-determination-breast-cancer-early-trastuzumab2

Cancerresearchuk.org. 2021. How bisphosphonates work  [online] Available at:

https://www.cancerresearchuk.org/about-cancer/cancer-in-general/treatment/bisphosphonates/how-bisphosphonates-work

Nice.org.uk. 2012.

Denosumab for the prevention of skeletal-related events in adults with bone metastases from solid tumours

[

TA265

] | Guidance | NICE

. [online] Available at:

https://www.nice.org.uk/guidance/ta265/chapter/4-Evidence-and-interpretation

Murthy, R., Loi, S., Okines, A., et al.

 2020.

Tucatinib, Trastuzumab, and Capecitabine for HER2-Positive Metastatic Breast Cancer.

The New England Journal of Medicine

.

382:597-609

Zimmer

. A., 

Van Swearingen

, A.,

 Anders

, K. 2020. HER2‐positive breast cancer brain metastasis: A new and exciting landscape.

Cancer Reports.

E1274

Nice.org.uk. 2014.

Do not do recommendation | Guidance | NICE

. [online] Available at:

https://www.nice.org.uk/donotdo/for-patients-who-are-receiving-treatment-with-trastuzumab-for-advanced-breast-cancer-discontinue-treatment-with-trastuzumab-at-the-time-of-diseaseprogression-outside-the-central-nervous-system-do-not

Cancerresearchuk.org. 2021.

Trial Research Results 

[online] Available at:

https://www.cancerresearchuk.org/about-cancer/find-a-clinical-trial/clinical-trials-search?populate=Breast%20cancer&f%5B0%5D=field_trial_status%3A4386

Synexusclinic.co.uk. 2021.

How are clinical trials regulated

[online]. Available at: 

https://www.synexusclinic.co.uk/faqs/how-are-clinical-studies-regulated/

Cancer.org. 2020. For Metastatic HER2-Positive Breast Cancer, New Treatments Emerge. [online] Available at:

https://www.cancer.gov/news-events/cancer-currents-blog/2020/tucatinib-trastuzumab-deruxtecan-her2-positive-metastatic-breast-cancer

clinicaltrials.gov. 2021. A Study of Tucatinib vs. Placebo in Combination With Capecitabine & Trastuzumab in Patients With Advanced HER2+ Breast Cancer (HER2CLIMB).[online]. Available at:

https://clinicaltrials.gov/ct2/show/NCT02614794

 Kimberley. T., Santa-Maria.,C

. 2020. Neratinib in Previously TreatedHER2-Positive Metastatic Breast Cancer: Point of View From the NALA Trial. [online]. Available at:

The Asco Post

.

https://ascopost.com/issues/october-10-2020-supplement-breast-almanac/neratinib-in-previously-treated-her2-positive-metastatic-breast-cancer/

Tucker, N. 2020.

HER2CLIMB Regimen Delays CNS Progression in HER2+ Metastatic Breast Cancer. Targeted oncology.

 [online]. Available at:

https://www.targetedonc.com/view/her2climb-regimen-delays-cns-progression-in-her2-metastatic-breast-cancer

Nice.org.uk. 2021.

T

ucatinib with trastuzumab and capecitabine for treating HER2-positive unresectable locally advanced or metastatic breast cancer after 2 or more anti-HER2 therapies [ID3828]

| Guidance | NICE

. [online] Available at:

https://www.nice.org.uk/guidance/indevelopment/gid-ta10708

Nice.org.uk. 2019.

Neratinib for extended adjuvant treatment of hormone receptor-positive, HER2-positive early stage breast cancer after adjuvant trastuzumab

| Guidance | NICE

. [online] Available at:

https://www.nice.org.uk/guidance/ta612

Saura, C., Oliveira, M., Feng, YH., Dai, MS, Chen, SW., Hurvitz, SA., Kim, SB., Moy, B., Delaloge, S., Gradishar, W., Masuda, N., Palacova, M., Trudeau, ME., Mattson, J., Yap, YS., Hou, MF., De Laurentiis, M., Yeh, YM., Chang, HT., Yau, T., Wildiers, H., Haley, B., Fagnani, D., Lu, YS., Crown, J., Lin, J., Takahashi, M., Takano, T., Yamaguchi, M., Fujii, T., Yao, B., Bebchuk, J., Keyvanjah, K., Bryce, R., Brufsky, A. 2020. NALA Investigators. Neratinib Plus Capecitabine Versus Lapatinib Plus Capecitabine in HER2-Positive Metastatic Breast Cancer Previously Treated With ≥ 2 HER2-Directed Regimens: Phase III NALA Trial.

J Clin Oncol

.;38(27):3138-3149.

 Saura, C., Oliveira, M., Feng, YH., Dai, MS, Chen, SW., Hurvitz, SA., Kim, SB., Moy, B., Delaloge, S., Gradishar, W., Masuda, N., Palacova, M., Trudeau, ME., Mattson, J., Yap, YS., Hou, MF., De Laurentiis, M., Yeh, YM., Chang, HT., Yau, T., Wildiers, H., Haley, B., Fagnani, D., Lu, YS., Crown, J., Lin, J., Takahashi, M., Takano, T., Yamaguchi, M., Fujii, T., Yao, B., Bebchuk, J., Keyvanjah, K., Bryce, R., Brufsky, A. 2020. Neratinib + capecitabine versus lapatinib + capecitabine in patients with HER2+ metastatic breast cancer previously treated with ≥ 2 HER2-directed regimens: Findings from the multinational, randomized, phase III NALA trial.

[online] Available at:

https://meetinglibrary.asco.org/record/170932/abstract

Nice.org.uk. 2020. Tucatinib with trastuzumab and capecitabine for treating HER2-positive unresectable or metastatic advanced breast cancer after 2 or more anti-HER2 therapies

 | Guidance | NICE

. [online] Available at:

https://www.nice.org.uk/guidance/gid-ta10708/documents/draft-scope-post-referral

Cancer.org. 2020.

Targeted Drug Therapy for Breast Cancer.

[online] Available at:

https://www.cancer.org/cancer/breast-cancer/treatment/targeted-therapy-for-breast-cancer.html

Nice.org.uk. 2021.

Trastuzumab deruxtecan for treating HER2-positive unresectable or metastatic breast cancer after 2 or more anti-HER2 therapies [ID2697]

 | Guidance | NICE

. [online] Available at: 

https://www.nice.org.uk/guidance/indevelopment/gid-ta10582

fda.gov.uk. 2019. FDA approves new treatment option for patients with HER2-positive breast cancer who have progressed on available therapies. [online] Available at:

https://www.fda.gov/news-events/press-announcements/fda-approves-new-treatment-option-patients-her2-positive-breast-cancer-who-have-progressed-available

Modi, S., Saura, C., Yamashita, T., Park, Y. H., Kim, S. B., Tamura, K., Andre, F., Iwata, H., Ito, Y., Tsurutani, J., Sohn, J., Denduluri, N., Perrin, C., Aogi, K., Tokunaga, E., Im, S. A., Lee, K. S., Hurvitz, S. A., Cortes, J., Lee, C.DESTINY-Breast01 Investigators. 2020. Trastuzumab Deruxtecan in Previously Treated HER2-Positive Breast Cancer.

The New England journal of medicine

,

382

(7), 610–621.

https://doi.org/10.1056/NEJMoa1914510

Nice.org.uk. 2021.

Trastuzumab deruxtecan for treating HER2-positive unresectable or metastatic breast cancer after 2 or more anti-HER2 therapies [ID2697]

| Guidance | NICE

. [online] Available at: https://www.nice.org.uk/guidance/ta704/informationforpublic 

Rugo, HS., Im, S., Cardoso, F., et al. 2021.Efficacy of Margetuximab vs Trastuzumab in Patients With Pretreated ERBB2-Positive Advanced Breast Cancer: A Phase 3 Randomized Clinical Trial.

JAMA Oncol.

 

Rugo HS, Im SA, Cardoso F, Cortés J., et al. 2021. SOPHIA Study Group. Efficacy of Margetuximab vs Trastuzumab in Patients With Pretreated ERBB2-Positive Advanced Breast Cancer: A Phase 3 Randomized Clinical Trial.

JAMA Oncol

.

https://pubmed.ncbi.nlm.nih.gov/33480963/

fda.gov.uk. 2020.

FDA approves margetuximab for metastatic HER2-positive breast cancer.

[online] Available at: 

https://www.fda.gov/drugs/drug-approvals-and-databases/fda-approves-margetuximab-metastatic-her2-positive-breast-cancer

Nice.org.uk, 2022:

Trastuzumab deruxtecan for treating HER2-positive unresectable or metastatic breast cancer after 1 or more anti-HER2 therapies [ID3909]

 https://www.nice.org.uk/guidance/indevelopment/gid-ta10804/documents
Hurvitz, S et al. 2022, Trastuzumab deruxtecan versus trastuzumab emtansine in patients with HER2-positive metastatic breast cancer: updated results from DESTINY-Breast03, a randomised, open-label, phase 3 trial. The Lancet: https://www.thelancet.com/journals/lancet/article/PIIS0140-6736(22)02420-5/fulltext