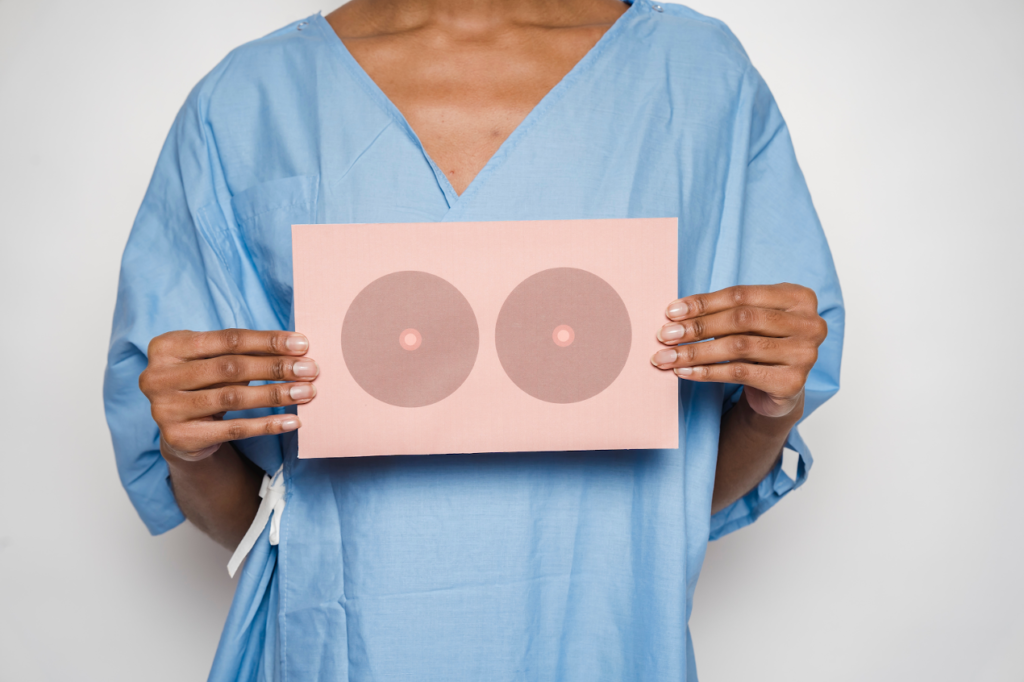 Neoadjuvant therapy (treatment that you receive before surgery) usually involves the same treatment (e.g., chemotherapy, hormone therapy and targeted therapies) that you can receive as adjuvant therapy (treatment that you receive after surgery). Both options have the same aim: remove as many cancer cells as possible and improve your overall survival. However, receiving therapy before surgery differentiates from adjuvant therapy in a number of characteristics.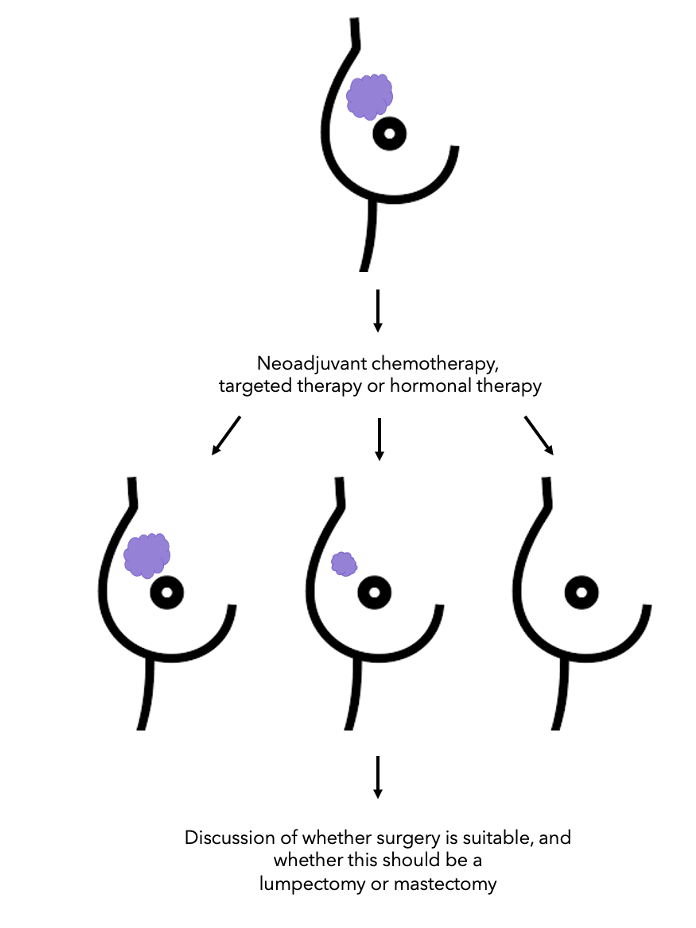 Neoadjuvant therapy can reduce the size of the tumour allowing less extensive surgery to your breast and armpit (check diagram on the left). It can also provide information about your outcome (prognosis) and give you and your doctors the opportunity to evaluate the effectiveness of different therapies and identify any treatment toxicities earlier1.
A survey carried out by multidisciplinary teams in Australia, Germany, Italy, the UK, and the US found that 7 to 27% of new breast cancers are treated with chemotherapy before surgery  (Saunders C, Cody H, Kolberg HC, et al, personal communication, 2017).  Therefore, knowing that 1.7 million women receive a breast cancer diagnosis annually, this translates into 120,000-460,000 women receiving chemotherapy before surgery worldwide2. 
What is the origin of the word "neoadjuvant"? In Latin, the prefix "neo" means new and "adjuvant" means helping or assisting. Neoadjuvant therapy is also known as "preoperative therapy". If you want to find out more about the meaning of other cancer terms and treatments, check out the OWise app glossary.
This blog will cover the main aspects of therapy before surgery (neoadjuvant therapy), its impact on surgery and long-term outcomes.
What should you expect before neoadjuvant therapy?
Before neoadjuvant therapy, your doctor will carry out a needle biopsy to remove a sample of your tumour. Your sample will then be analysed by a pathologist to identify your tumour characteristics such as the HER2 or hormone receptor (HR) status. To find out more about these markers, check out our Pathology report blog. These factors are very important as they will determine which therapy will be the most beneficial to you before surgery. 
Whilst the biopsy takes place, a radio-opaque clip is often placed in the tumour so it can be found later when you have surgery. These clips are safe and easily visualised by imaging techniques; they do not alter your response to treatment, and it can serve as a guide after neoadjuvant therapy if the tumour cannot be felt 3,4.

Before surgery, you may want to ask your doctor some of questions like "Will all the cancer be removed, or just some of it?". OWise is a free downloable app that has been extensively validated and accredited by the NHS. It includes a wide range of evidence based features like a prompt list of questions. With this function, the app generates a personalised list of questions that you can ask your doctor. Also, it allows you to customise question lists for each appointment, changing the questions you ask to your surgeon, oncologist, or Macmillan nurse.
When is neoadjuvant chemotherapy preferred, and when is adjuvant?
Chemotherapy before surgery (neoadjuvant) is usually offered for those with triple-negative breast cancer (TNBC) or HER2-positive breast cancer to reduce the size of the tumour. It can also be offered if you have ER-positive, HER2-negative breast cancer and you need chemotherapy5. It can also be a good option if this therapy can minimise the extent of surgery you would need to remove the cancer.  
In the UK, chemotherapy before surgery for triple-negative breast cancer usually includes the  following drugs: 
Platinum drugs like cisplatin, carboplatin and oxaliplatin.
Anthracyclines drugs like doxorubicin (Adriamycin®), epirubicin (Ellence®), doxorubicin (Doxil®), daunorubicin (Cerubidine®), mitoxantrone (Novantrone®)5. 
If you have secondary triple-negative breast cancer, neoadjuvant therapy with atezolizumab (Tecentriq®) and the chemotherapy drug nab-paclitaxel (Abraxane®) is now the first immunotherapy available within the NHS6. If you want to read more about triple-negative breast cancer and all the available therapies for this type of cancer, read more in our Triple Negative Breast Cancer Blog.
What about adjuvant therapy?
If you don't need to reduce the size of the tumour or improve your surgical options, it is likely that you will receive therapy after surgery (also known as adjuvant). This is true for most early-stage breast cancer patients: 
 Stage I HER2-positive
 T1a/b triple-negative
 Stage I-II hormone receptor-positive (HR-positive) with intermediate grade 1. 
If you have triple-negative breast cancer and you are receiving adjuvant (after surgery) therapy, it has been shown that there is an increased risk of mortality associated with delays in chemotherapy. A study from the MD Anderson group looked at a sample of patients with triple-negative breast cancer and identified that the outcome was better for those that received chemotherapy treatment within 30 days from surgery7. Therefore, it is important that you check with your doctors when chemotherapy should start after surgery and discuss with them if you have any concerns.
How does neoadjuvant therapy affect surgery?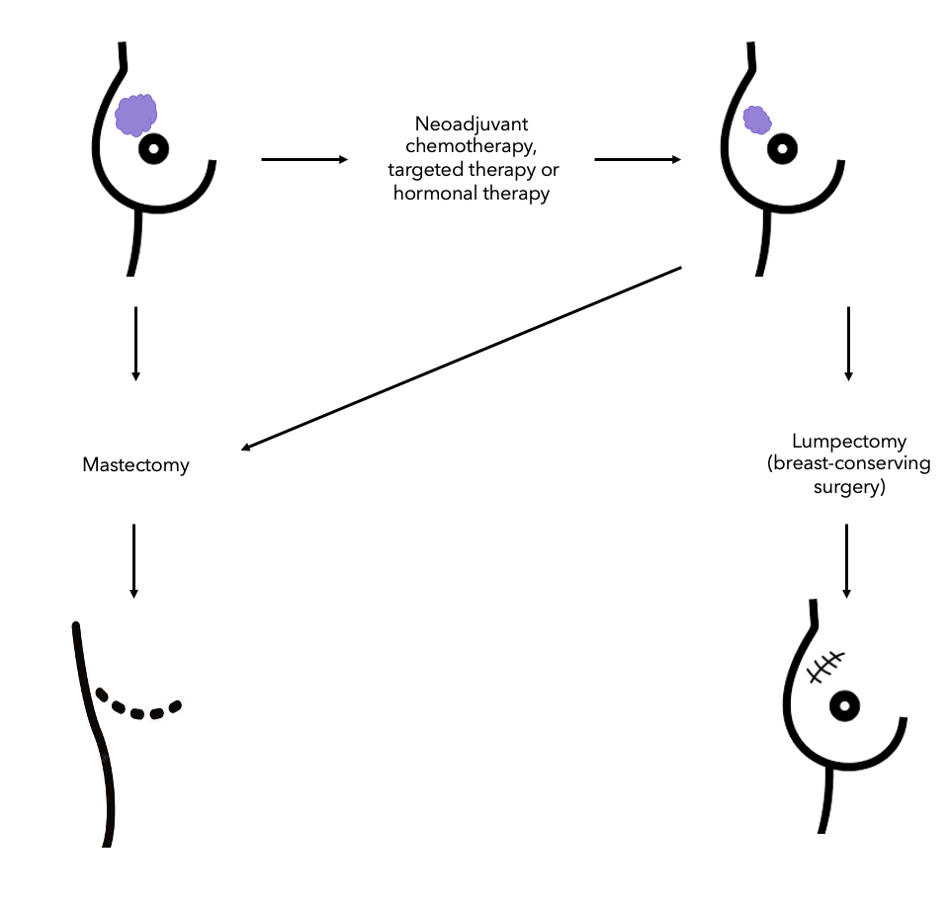 The results from one clinical trial performed in 2014 indicated that those with triple-negative and HER2-positive breast cancers most commonly went to have a breast-conserving surgery after chemotherapy8. Interestingly, many patients with no sign of cancer in their tissue samples after chemotherapy (also known as having a pathologic complete response) still opted to have a mastectomy (check the diagram on the right to visualise the different surgery options).
Breast conserving surgery (also known as lumpectomy) is an operation to remove the cancer but not the breast itself, whilst a mastectomy is a procedure that removes the whole breast. A breast conserving surgery is usually done to remove the tumour or lump and a small amount of normal tissue around it.
Therefore, the question you might be asking yourself is why patients with a complete lack of all signs of cancer still undergo a mastectomy? Some of the answers can be patients' and physicians' anxiety and bias, having calcifications that cannot be removed with breast-conserving surgery or having a multifocal disease (when two or more tumours are in the same breast).
Can neoadjuvant therapy decrease the probability of receiving axillary (underarm) surgery? 
This can be the case. Previous studies that looked at patients diagnosed with cancer in up to four lymph nodes around their armpit showed that after neoadjuvant chemotherapy, 40% of them had no cancer cells in their lymph nodes at all9. The status of the lymph nodes was confirmed by a sentinel node biopsy following therapy. 
How does a sentinel node biopsy work? The sentinel lymph node is the first node where cancer cells can grow. There may be more than one. These lymph nodes are detected by injecting a harmless radio-active dye near the area where the tumour is found. The lymph node(s) where the radio-active dye is detected (sentinel node) will be removed by the surgeon and examined by the pathologist for the presence of cancer cells.
What about receiving hormone therapy before surgery?
Hormone therapy before surgery is generally considered for patients that are not going to receive chemotherapy or alternatively if their cancer does not respond well to chemotherapy. It may also be a  good choice of treatment if your breast cancer is at stage II or III1 and you want to have breast-conserving surgery. 
Interestingly, a study that looked at patients that took aromatase inhibitors (exemestane, letrozole or anastrozole) for 6 months before surgery showed that 51% of the patients that were initially only candidates to have a mastectomy, had breast-conserving surgery after taking hormone therapy before surgery10. 
Is there a difference in survival between receiving chemotherapy before and after surgery?
The simple answer to this question is no. A study published a number of years ago by Rastogi and others11 demonstrated this. They measured the overall survival of a group of patients treated with chemotherapy before surgery and after surgery. The hypothesis of this study was that patients receiving chemotherapy first would have a better outcome. However, that was not the case, the overall survival was identical in both scenarios. Additionally, a large study that looked at previous findings between chemotherapy after and before surgery,  showed no difference in survival and overall disease progression12.
Chemotherapy targets all fast-dividing cells. As cancer cells are fast-dividing, it is particularly these cells that are targeted and destroyed. But other fast-dividing cells are also affected, including hair follicles, the lining of the mouth, skin, nails and intestines. That's why hair loss, brittle nails, diarrhoea, sickness and vomiting are common side-effects. If you experience these side effects, make sure to monitor them with OWise. By sharing these with your doctor, they may be able to offer you additional treatments that stop these symptoms.
The relationship between having no signs of cancer after neoadjuvant therapy and overall survival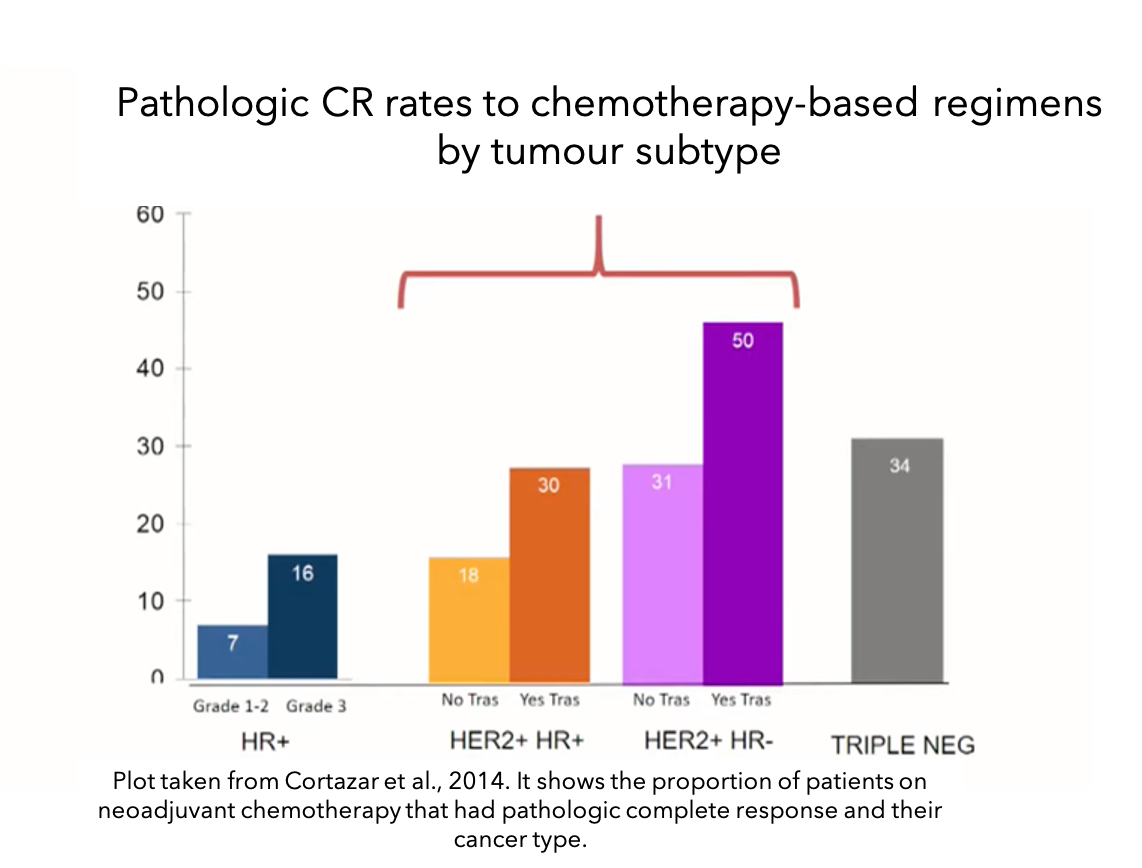 An interesting study published at the Lancet in 201413 analysed a large number of studies with patients that received neoadjuvant chemotherapy. They showed that the pathologic complete response (complete lack of all signs of cancer in the tissue samples after neoadjuvant therapy) varies depending on the breast cancer subtype and the treatment they receive (see bar plot). Patients with hormone receptor (HR) positive and HER2-negative cancers (blue bars) were unlikely to have a complete lack of all signs of cancer. However, in HER2-positive and HR-positive cancers, neoadjuvant chemotherapy improved the proportion of patients with these characteristics, especially if they were taking trastuzumab (Herceptin®). This rate was even higher in HER2-positive HR-negative cancers (purple bars) and triple-negative cancers (grey bar). 
Some studies that have analysed patient data show that having a complete lack of cancer in your tissue samples after neoadjuvant therapy can be a good predictor of overall survival and disease-free survival13,14. This means that in these studies those having a pathologic complete response had a higher probability of having a higher overall survival and disease-free survival than those who did not. However, having a pathologic complete response was not a requirement to have a good outcome. This association was even stronger in triple-negative breast cancer and in high-grade HR+/HER- cancer14.
We hope you enjoyed reading our blog and that with this knowledge, you better understand neoadjuvant therapy and are aware of the possible implications to your treatment plan. Our aim is to make sure you are always kept informed so make sure to follow our Instagram and Twitter accounts for any updates.
To receive more personalised information regarding your type of breast cancer, download the OWise app today from the iOS App Store or Google Play Store. 
References 
Burstein, H., Curigliano, G., Loibl, S., Dubs

k

y

, P., Gnant, M., Poortsman, P., Colleoni, M., Denkert, C., Piccart-Gebhart, M., Regan, M., Senn, H., Winer, E., Thurlimann, B.

 2019. Estimating the benefits of therapy for early-stage breast cancer: the St. Gallen International Consensus Guidelines for the primary therapy of early breast cancer 2019

.

Annals of Oncology

, 30(10): pp:1541-1557. 

Cancer Research UK. 2017.

Breast Cancer Statistics

.

[online]. Available at: 

http://www.cancerresearchuk.org/health-professional/cancer-statistics/statistics-by-cancer-type/breast-cancer

.

[Accessed January 2021].

Oh, J., Nguyen, G., Whitman, G., Hunt, K., Yu, T., Woodward, W., Tereffe, W., Strom, E., Perkins, G., Buchholz, T. 2007. Placement of Radiopaque Clips for Tumor Localization in Patient Undergoing Neoadjuvant Chemotherapy and Breast Conversation Therapy. Cancer, 110(11): pp:2420-2427. 
Shalaby, E., Khallaf, E., Moussa, M. 2019. Clips and wire localization of locally advanced malignant breast masses in patients undergoing neoadjuvant chemotherapy and breast conservation therapy. Egyptian Journal of Radiology and Nuclear Medicine. 96.
Nice.org.uk. 2018. Early and locally advanced breast cancer: diagnosis and management. [online]. Available at:  https://www.nice.org.uk/guidance/ng101/chapter/Recommendations [Accessed January 2021]. 
Nice.org.uk. 2020. Atezolizumab with nab-paclitaxel for untreated PD-L1-positive, locally advanced or metastatic, triple negative breast cancer. [online] Available at:https://www.nice.org.uk/guidance/TA639 [Accessed January 2021].
Mdanderson.org. 2015. Delaying chemotherapy in breast cancer patients reduces overall survival, especially for those with triple-negative breast cancer | MD Anderson Cancer Center [online]. Available at:  https://www.mdanderson.org/newsroom/delaying-chemotherapy-in-breast-cancer-patients-reduces-overall-.h00-158992968.html [Accessed January 2021]. 
Boughey, J., McCall L., Ballman, K., Mittendorf, E., Ahrendt, G., Wilke, L., Taback, B., Leitch, A., Flippo-Morton, T., Hunt, K.  2014. Tumor biology correlates with rates of breast-conserving surgery and pathologic complete response after neoadjuvant chemotherapy for breast cancer: findings from the ACOSOG Z1071 (Alliance) Prospective Multicenter Clinical Trial. Annals of surgery. 260(4): pp: 608-614.
Boughey, J., Suman, V., Mitterndorf, E., Ahrendt, G., Wilke, L., Taback, B., Leitch, M., Kuerer, H., Bowling, M., Flippo-Morton, T., Byrd, D., Ollila, D., Julian, T., McLaughlin, S., McCall, L., Symmans, W., Le-Petross, H., Haffty, B., Buchholz, T., Nelson, H., Hunt, K. 2013. Sentinel lymph node surgery after neoadjuvant chemotherapy in patients with node-positive breast cancer: the ACOSOG Z1071 (Alliance) clinical trial. JAMA. 310(14), pp: 1455-1461. 
Ellis, M., Suman, V., Hoog, J., Lin, L., Snider, J., Parker, A., Luo J., DeSchrvver, K., Allred, C., Esserman, L., Unzeitig, G., Margenthaler, J., Babiera, G., Marcom, K., Guenther, J., Watson, M., Leitch, M., Hunt, K., Olson, J. 2011. Randomized Phase II Neoadjuvant Comparison Between Letrozole, Anastrozole, and Exemestane for Postmenopausal Women With Estrogen Receptor–Rich Stage 2 to 3 Breast Cancer: Clinical and Biomarker Outcomes and Predictive Value of the Baseline PAM50-Based Intrinsic Subtype—ACOSOG Z1031. Journal of Clinical Oncology. 17, pp:2343-2349.
Rastogi, P., Anderson, S., Bear, H., Geyer, C., Kahlenberg, M., Robidoux, A., Margolense, R., Hoehn, J., Vogel, V., Dakhil, S., Tamkus, D., King, K., Pajon, E., Wright, M., Robert, J., Paik, S., Mamounas, E., Wolmar, N .2008. Preoperative chemotherapy: updates of National Surgical Adjuvant Breast and Bowel Project Protocols B-18 and B-27. Journal of Clinical Oncology, 26(5): pp: 778-785. 
Mauri, D., Pavlidis, N., Ioannidis, J. 2005. Neoadjuvant versus Adjuvant Systemic Treatments in Breast Cancer: A Meta-Analysis. Journal of the National Cancer Institute, 97(3), pp: 188-194.  
Cortazar, P., Zhang, L., Untch, M., Mehta K, Costantino JP, Wolmark N, Bonnefoi H, Cameron D, Gianni L, Valagussa P, Swain SM, Prowell T, Loibl S, Wickerham DL, Bogaerts J, Baselga J, Perou C, Blumenthal G, Blohmer J, Mamounas EP, Bergh J, Semiglazov V, Justice R, Eidtmann H, Paik S, Piccart M, Sridhara R, Fasching PA, Slaets L, Tang S, Gerber B, Geyer CE Jr, Pazdur R, Ditsch N, Rastogi P, Eiermann W, von Minckwitz G. 2014.Pathological complete response and long-term clinical benefit in breast cancer: the CTNeoBC pooled analysis. Lancet. 384(9938), pp:164-172. 
Yee, D., DeMichele, A., Isaacs, C., et al. Pathological complete response predicts event-free and distant disease-free survival in the I-SPY2 TRIAL. Oral presentation at: 2017 San Antonio Breast Cancer Symposium; December 5-9, 2017; San Antonio, TX.