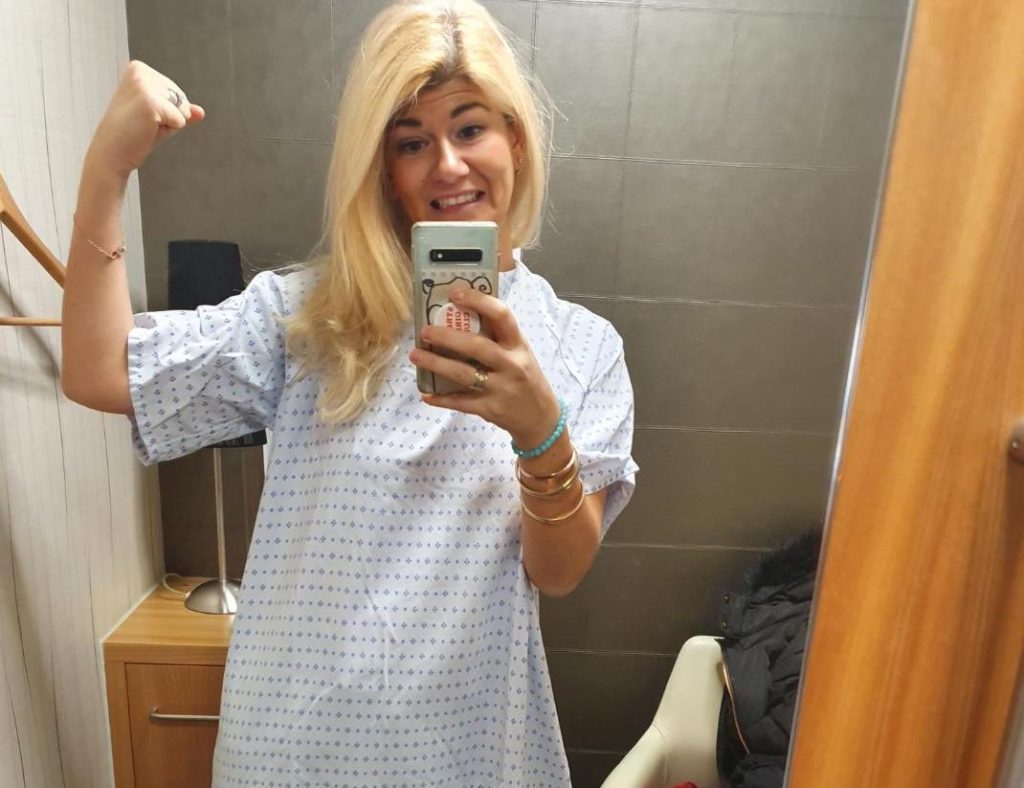 If you are newly diagnosed with breast cancer, this blog is for you. 1 in 7 women will fall into that category in the UK at some point in their lives receiving a diagnosis of Breast Cancer1. I was the 1 in 7. I was the newly diagnosed and I know what a terrifying space that is to be plummeted into. I know those sleepless nights after hearing you have breast cancer and all that comes with those words. The conversations that must be had. The diary that becomes fuller than anyone can ever warn you about. The emotions. New terminology that can at times feel like you are learning a new language altogether. I know it. I was it. And I hope this blog can help those who may have only just heard those words to know that there will come a time when you will feel strong again. This too shall pass. 
Managing daily life after a breast cancer diagnosis
When you hear the words you have Breast Cancer, you may not realise that things are suddenly going to get a lot busier. You become a patient immediately. For someone that was pretty healthy before these words and had barely taken a paracetamol, it was a very strange experience to immediately feel so vulnerable, and to be thrust into this medical world. 
My diary had never been busier than when I was diagnosed with Breast Cancer. Doctors' appointments, multiple scans, chemotherapy, bloods, surgery appointments, follow ups, more scans, biopsies…the list goes on. I used to joke that I needed a cancer PA (personal assistant) because having cancer is a full-time job. Some people, like my sister, choose to have a cancer folder where all their important information is kept. Looking back, I so wish I had known about OWise from the very start. It would have helped me feel so much more on top of my endless appointments – having all my cancer-land ones in one place. 
Want to participate further and have a more active role in your care but unsure how to begin? Read 'Self Advocacy and Breast Cancer' to learn how to get started.
My advice would be that on the day of diagnosis you download the OWise app to help you manage your daily life. It will help you so much to feel on top of all the cancer admin to have this app in your pocket. I know it would have transformed my experience of Breast Cancer. 
Dealing with intense emotions after a breast cancer diagnosis
'This Too Shall Pass' has been my favourite quote since a friend told me about it when my Mum died from Secondary Breast Cancer when I was 27. I have always kept it close in my pocket. It helps me to remember that absolutely everything is temporary and no feeling lasts forever. Everything passes, everything changes. Embracing every feeling and not fearing the negative ones.
A breast cancer diagnosis will bring up a lot of intense emotions and fears. When I was first diagnosed I was taking part in an 'abundancy' challenge with friends which involved a daily meditation practice, I cannot recommend this enough. Fifteen minutes to go within with a guided meditation gave me the strength to face all the uncertainty of those early days and to trust that things would be ok. If meditation is not for you, there are so many positive ways to help manage emotions, from therapy, to getting outside in nature. From cold water swims, to calling a friend. Whatever strategies you find help you to cope best with intense emotions make sure to embrace them during this time.
Approaching work after a breast cancer diagnosis
When I was diagnosed with breast cancer I was working with my husband for our own company, so I didn't have to talk to an employer about taking time off. If anything, when lockdown happened, my husband was the one that needed majorly supporting on this front, as he became the sole provider, the childcare on my bad days, the chef, the cleaner – all whilst trying to run a business that was mainly focused on travel, when the world was no longer travelling. 
I think we were in such a fight or flight for survival we didn't realise the support that was out there. For example, financial advice provided by Macmillan. I recently found out about an incredible organisation called Working With Cancer, which is changing the conversation about work and cancer. They support both employers and employees with experienced coaching, training and consultancy. If you have been diagnosed with Breast Cancer and have any queries about your work and your rights, how to talk to your employer, flexible working and taking time off, then this would be a fantastic port of call to feel like you have one less thing to worry about during an incredibly worrying time already. 
Talking to family and friends about a breast cancer diagnosis

While I was doing research for this blog, I went back to see how I broke the news to family and friends. What I read was pretty devastating. I couldn't even write the word cancer for fear of upsetting them. An example of what I wrote was:
"Hi lovely, I'm going to be ok so it is all fine but I found a lump under my arm and on Friday doctors confirmed that it was my biggest fear. However, hopefully it is early. Will know more next week. Will be a combo of treatment and surgery but nothing I can't handle. Positive thoughts all the way. Lots of love"
I absolutely hated feeling responsible for delivering bad news. Which is understandable, BUT I now realise that trying to protect others from the pain of my diagnosis is not something I needed to take on at that time, on top of everything else. 
I think it can be very helpful to have groups for updates with friends and family. That way you are not having to repeat yourself when your energy is low.
Ultimately, I ended up taking to social media for my updates because I knew that way, everyone I loved would be up to date, but of course sometimes updates needed to be given to those closest to me first. If you are really feeling overwhelmed by talking to friends and family about the ins and outs, it can help to sit with a friend or a partner and get them to feed back to others. It's hard when you are feeling so ill and know that everyone cares and wants to know you are going to be ok, but sometimes you just do not feel ok and the thought of having to put on a brave face is too much. 
Let's not forget, you are also learning a whole new language and this means that sometimes it can feel like you are educating those you love about the minutia of breast cancer. OWise have the most helpful glossary of terms which would really help friends and family to understand more about what is going on for you. As well as the amazing function of being able to record your appointments in a secure way so they can listen back and understand what is going on better. 

I think a Breast Cancer diagnosis is a time to start to be a little selfish. Your energy is precious and needs to be conserved however you can. If that means sharing one update on social media and then going quiet because all of the information you want to say is there, or sending a group message and then turning your phone off, you do you. Rest, be selfish, and know that you are not responsible for the emotions of others. You are dealing with enough fear yourself and need to focus. It sounds harsh but this is what I wish I could tell the newly diagnosed me who spent a lot of time worrying about upsetting others. 
If you are struggling with fatigue, check out the blog 'Cancer-related fatigue is not "just tiredness".
I also think the best advice for those who are supporting someone going through Breast Cancer is to check in but with no expectation for a response. I'd go so far as to say 'no need to respond' in your message and really mean it. That way they feel the love and support without the need to explain anything at that moment in time. Some days I was so exhausted from doing the bare minimum with my children that replying to messages was out of the question.
Being healthy after a breast cancer diagnosis
The day I found my lump I had exercised that morning and was working out 3 times a week. After my diagnosis, bandaged up where the biopsies had been I suddenly felt vulnerable and I stopped exercising as regularly. 
I did try some cancer yoga classes before lockdown happened but then with the mix of home-schooling on top of chemo, it was enough that on my good days I got out for a walk. I felt so low on energy. I do often think how different my experience of cancer might have been if not for lockdown. Living so close to Future Dreams House perhaps I would have got to the house whilst the kids were at school for some of their yoga or cookery classes. To have that support and connection whilst focusing on being healthy and exercising throughout. 

According to the joint Society for Integrative Oncology and ASCO guidelines for the use of integrative therapies during and after breast cancer treatment, yoga is recommended for reducing anxiety as well as for improving quality of life, mood, depressive symptoms, fatigue and sleep2. It has also been proven to help with menopausal symptoms and pain. Both things that many breast cancer patients are left with after treatment. A great instagram account to follow for all things yoga and cancer is @yogaforcancer with Vicky Fox. 
When it comes to eating healthily, I believe that everyone needs to listen to their own bodies. I was a very heavy drinker before my diagnosis, and I am not saying that this is the reason I was diagnosed with breast cancer but there are studies that show a link to alcohol consumption and a diagnosis of breast cancer3. The way I saw it when I was diagnosed was that I wanted to be the healthiest version of myself heading into chemo as the toxicity of that would be enough for my body to be facing. So I started to treat my body like a temple for the first time in my life and started to really think about how I was nourishing it. I was green juicing. I was reducing my sugar intake. I eliminated dairy and meat. And I am not writing this to say any of that made the blindest bit of difference to my experience. However, it is what gave me some peace of mind as my body was ravaged by chemo. It gave me some sense of control over the situation. 
I always think that it is best to listen to your body. We are all different. I craved strawberries and salt during treatment. No idea why, but I listened and always felt better after eating these things. There is A LOT of information about what to eat/do/not do and it can get exhausting trying to work out what is best. Ultimately you will know what feels good for you. This is the time to honour that beautiful body of yours. 
Seeking support after a breast cancer diagnosis
There is absolutely no way I would have been able to get through my breast cancer diagnosis, treatment and surgeries without the support of some incredible people. From the medical team and the oncology nurses who were on call to answer any questions or concerns. To the Macmillan support that was offered during chemo, where I would get reflexology as I was having lifesaving drugs pumped into me. I always had the feeling of being supported.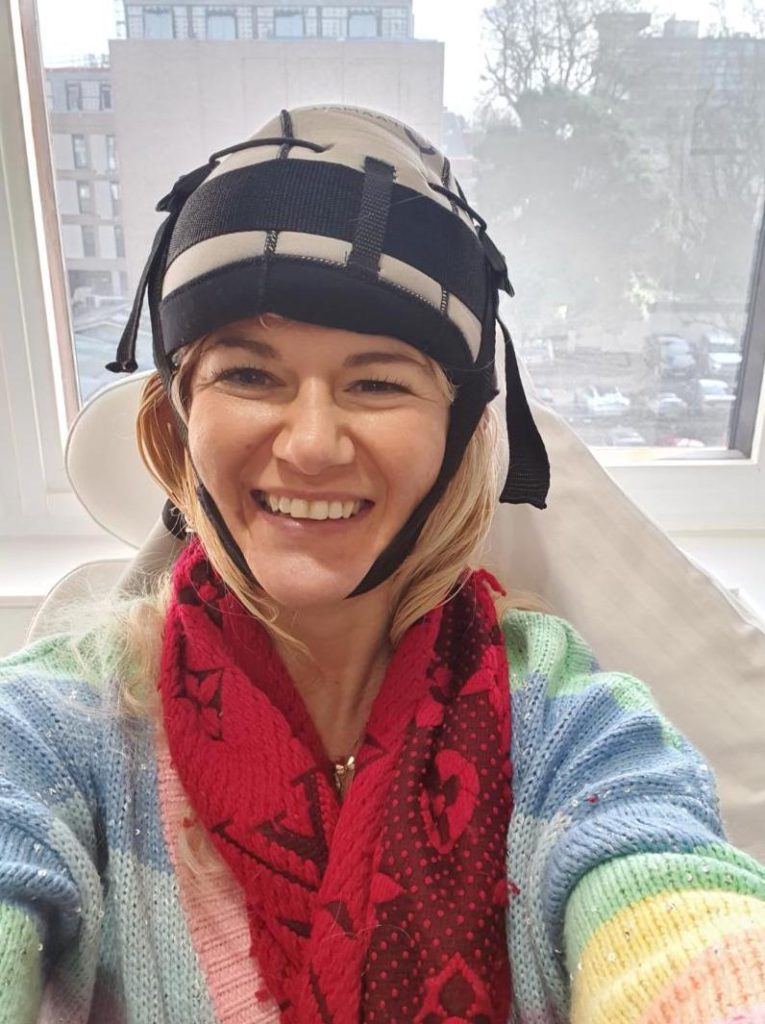 On top of this I discovered some really wonderful charities that provide incredible support. From the amazing Future Dreams House which offers in person workshops and activities that I have used since finishing treatment. There is also Breast Cancer Now's incredible Someone Like Me initiative where you are matched with someone that has had a similar diagnosis to you and can give that gift of not feeling so alone. 

There is a tribe of people that take to social media to share and I have many 'breasties' from connecting with one another and being able to share our deepest thoughts and fears, whilst also coming through together to celebrate life. 
I have also had a lot of oncology counselling to help me through the very tricky stage of finishing treatment and feeling broken physically and mentally. Compassion focused therapy with an oncology counsellor helped me to put my pieces back together with love and compassion, much like the Japanese art of Kintsugi where they put broken pottery together with gold lacquer making a more beautiful work of art, I feel that compassion focused therapy did this for me. Lining my broken parts with liquid gold love, allowing me to come back to my new self with a renewed sense of love and life. 
If you are feeling like you are lacking support, I would suggest checking out the following charities:
Future Dreams House

Breast Cancer Now

Macmillan

Maggie's
You are not alone. There is an army of support out there once you start to look. You are deserving of all the love and support to get you through and beyond your breast cancer diagnosis. 
References
1. Smittenaar CR, Petersen KA, Stewart K, Moitt N. Cancer incidence and mortality projections in the UK until 2035. British Journal of Cancer. 2016;115(9):1147–1155. doi:https://doi.org/10.1038/bjc.2016.304
2. Lyman GH, Greenlee H, Bohlke K, Bao T, DeMichele AM, Deng GE, Fouladbakhsh JM, Gil B, Hershman DL, Mansfield S, et al. Integrative Therapies During and After Breast Cancer Treatment: ASCO Endorsement of the SIO Clinical Practice Guideline. Journal of Clinical Oncology. 2018;36(25):2647–2655. doi:https://doi.org/10.1200/jco.2018.79.2721
3. Longnecker MP, Newcomb PA, Mittendorf R, Greenberg ER, Clapp RW, Bogdan GF, Baron J, MacMahon B, Willett WC. Risk of Breast Cancer in Relation to Lifetime Alcohol Consumption. JNCI Journal of the National Cancer Institute. 1995;87(12):923–929. doi:https://doi.org/10.1093/jnci/87.12.923