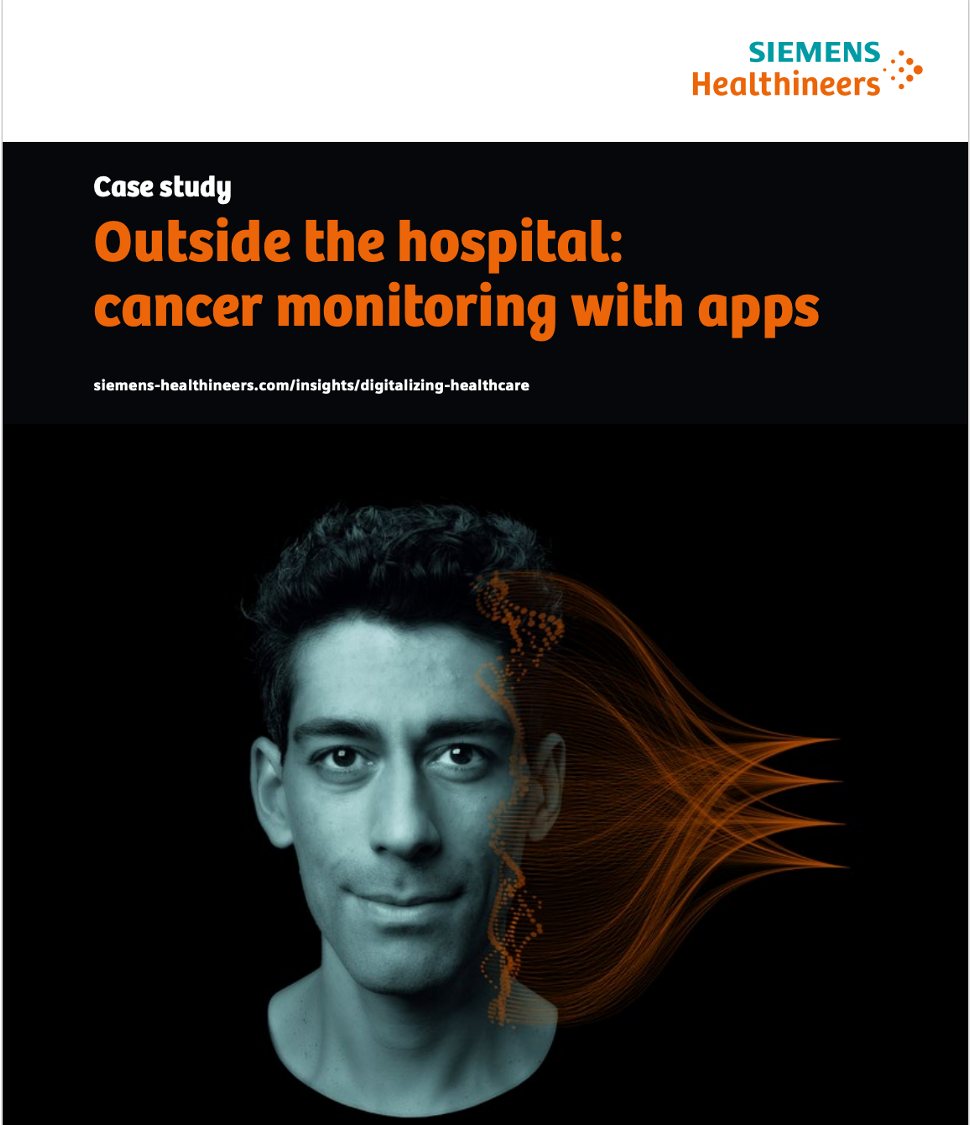 The research shared here was created and reported by Siemens Healthineers. Click here to access their case study. 
Based on extensive first-hand research, the team at Economist Intelligence Unit (EIU) has explored how the movement to digitalisation has impacted patient care. The focus was on how systematic remote monitoring of patient symptoms, well-being, and quality of life using digital apps can work hand-in-hand with current health practices to facilitate proactive treatment management and improve clinician-patient communication. Our founder and CEO, Dr. Anne Bruinvels was interviewed and featured as an expert in the field.
The main findings of the research showed that
Patient monitoring apps, such as OWise, provide real-time data on cancer patients, enabling accelerated feedback loops between them and their care teams. 

Digitalisation allows care teams to develop personalised care plans that dynamically respond to patient behaviours and support better management or adverse effects related to treatment.

Cancer app investment could facilitate an overall reduction in healthcare costs due to the decrease in preventable hospital admissions. 

Apps can improve a patient's quality of life by facilitating shared-decision making, allowing them to have an influence on their treatment plan. 
Previously the integration of mobile applications into healthcare has been a slow process. The covid-19 pandemic triggered a rapid reorganisation of healthcare delivery systems, raising awareness of the digital tools available that allow physicians to provide care outside hospitals. This has focused on monitoring patient-reported outcomes (PROs), which can be used to support clinician decision-making.   
According to Trevor Royce, assistant professor and oncologist at the Lineberger Comprehensive Cancer Centre at the University of North Carolina, patient-reported outcomes (PROs) "are now a well-established subspecialty in cancer treatment, and there is real momentum behind a move to more sophisticated monitoring" of these metrics, including with mobile apps.
Systems with Patient Reported Outcomes (PRO) provide care teams with a useful tool to collect data relevant to treatment management and recovery support, routinely monitor symptoms, automate timely interventions and analyze outcomes in cancer patients. This data driven approach can ultimately help healthcare providers in their journey toward building a learning health system. Mobile apps can provide a more valuable, real-time dataset by enabling a much faster feedback loop between patients and their care team. Increased reactivity allows for deeply personalised cancer care plans that respond to patient behaviours, in addition to better management of adverse events to related treatments and ultimately an improved quality of life.
These findings highlight the importance of monitoring apps such as OWise to allow cancer patients to report changes in their condition from outside the hospital, putting the patient, rather than the hospital, at the centre of the care pathway. 
"On a systems level, medical apps provide an opportunity to focus on patient outcomes rather than processes. By collecting real-world data and processing these data through advanced analytics, health systems have the opportunity to move towards value-based reimbursement models. Cancer apps do this by providing data to better track a patient's course on a clinical pathway, improving day-to-day quality of life, toxicity management and survivorship."

OWise's CEO & Founder, Dr. Anne Bruinvels 
The main challenge that faces the implementation of smartphone applications is being able integrate the tech into existing clinical pathways. Unfortunately, in the case of the NHS, where there has been an underinvestment in ICT,  there could be substantial lead time before the true benefits of these initiatives are seen at system level. 
The major hurdle to tackle is being able to integrate into Electronic Health Records (EHRs). Fortunately OWise has been created to be integrated into all Electronic Health Records that are used around the UK. Therefore, the data that is acquired from OWise can be rapidly translated into actionable and meaningful insights for clinicians. OWise has already been integrated into NHS Lothian, which has been a huge success. 
Despite recent developments, a 2019 study showed a significant implementation gap in patient utilisation rates of mobile health in oncology; only 30% of patients reported using these tools. To a large extent, closing this implementation gap will rely on clinicians, as the relationship between patients and their physicians means that the use of apps is highly dependent upon a physician's recommendation. 
If you want to find out how OWise could be integrated into your hospital, check out our video. If you have any questions or are interested in an integration, please email us at info@pxhealthcare.com or through our social media. We would also be able to supply physical and virtual brochures that you can send to your patients, which together you can fill out.