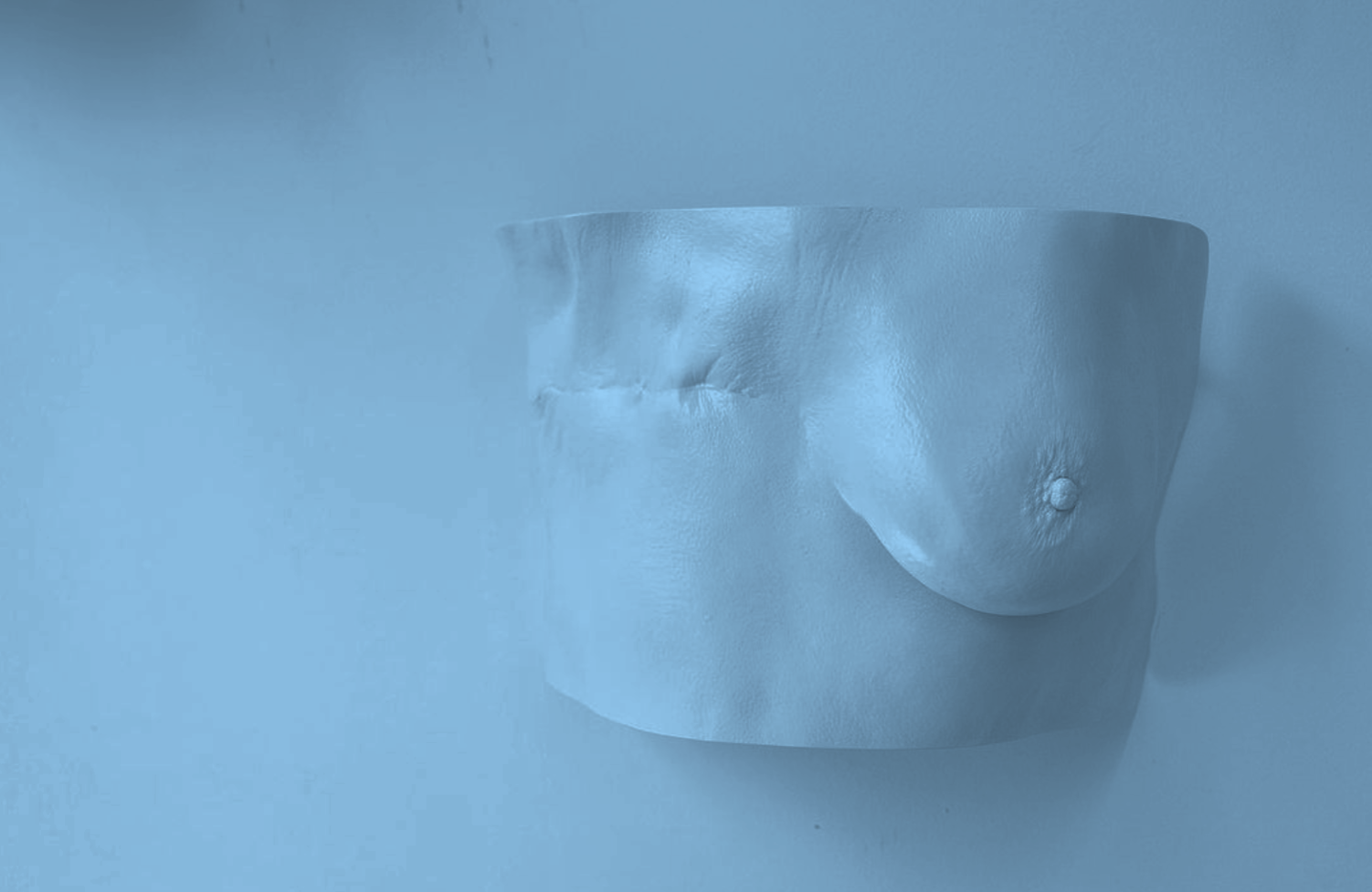 People may expect you to put all these issues behind you and pick up the pieces where you left off. The trouble is, you're not the same person that you were. You carry scars, and not just on your chest. You'll never be quite the same again, for good or bad.

– Dr Kathleen Thompson, 'From Both Ends of the Stethoscope'
In the first two instalments of this miniseries, we've taken a close look at breast cancer surgery, both before, during and immediately after the operation itself. But what about the long-term impacts post-surgery? How do you adapt to the changes that surgery may bring to your day-to-day life? And what support is out there to make it all easier to manage?
As Dr Kathleen Thompson describes in the quote above, the expectation for things to return to normal is quite an unlikely one after surgery, as some changes to your everyday life are bound to occur because of it. Knowing this can feel quite isolating, especially if those around you do not quite understand the prolonged struggles you may face.
In this blog we'll explore some of the answers to these questions. In particular, we'll look at which separate long-term issues are experienced by those who have lumpectomies and mastectomies (with or without reconstruction) as well as some of the long-term solutions.
Living Flat
Living flat, or going flat, is a term that has generally been used to describe people who actively chose not to have a reconstruction post-surgery (particularly mastectomy). While this is true in some cases, according to Sarah Coombes, one of the Trustees at Flat Friends UK, living flat encompasses more than that:
'For some people, living flat is not their choice, either because another health condition prevents them from having reconstruction, or because their surgery has been temporarily postponed. Many people have simply not made up their mind, and they are just as much a part of the community – even if they later decide to go ahead with reconstruction.'

– Sarah Coombes, Flat Friends UK Trustee
While living flat can be difficult over the long-term, some of the issues can occur right at the beginning. Many patients have felt that their decision not to have a reconstruction was not respected in their preliminary conversations with their doctor and that they were made to feel like their choice was surprising and uncommon. This is despite the fact that around 44% of people live flat following their mastectomy operations. The external pressure to have a reconstruction can make those who choose not to have one feel isolated and invalidated.
While Sarah Coombes stresses that Flat Friends does not promote living flat over reconstruction, she does note that societal standards do influence why surgeons can often push for reconstruction saying, "We live in a society where women are encouraged to look a certain way, and that does give strength to the reconstruction option". Making people aware that living flat is just as legitimate an option, is a key step to taking away some of the invalidation and isolation that some women feel.
Flat Friends UK is a charity dedicated to supporting women who have had a single or double mastectomy surgery without breast reconstruction , including those who face such decisions. They run both a private and public Facebook group for women to come together and talk about practical and emotional matters related to living flat.
Living post-Reconstruction
The body is only able to handle so many changes at a time, and it also changes and settles after surgery so something that looks great on the operating room table may not look great months or years later. 

– Dr. Constance Chen, Surgeon 1
Reconstruction is not seen as a cosmetic surgery because its purpose is to restore the previous appearance rather than change it into something new. That's why it is included as an integral part of the treatments options, and is not seen as an extra add-on.
However, despite the intention of restoring the previous appearance, the way the breast feels following a reconstruction may not be the same as it was before. Even the appearance itself may not be quite as you expected given the limitations of the reconstruction procedure, and it may change in the long-term (as described above).
Feeling disappointed with the surgery results is very common, and can be felt more strongly if the expectations were not managed by the care team. With breast reconstruction there can be changes to:
Because nerves are removed as part of the procedure, your new breast(s) will likely not be as sensitive as it was prior to surgery. This may not matter hugely in your day-to-day life, but when it comes to sex and intimacy this could become and issue (check out our blog on sex, intimacy and breast cancer).
The new breast or breasts may be different in size to what you're used to and may not be perfectly symmetrical with the other. However, this change in size may be temporary as swelling is very typical in the time post-surgery.
Because the implant is not a natural part of your body, it won't gain or lose weight when you do. This can also lead to some trouble with being symmetrical with the other breast or looking like a natural part of your body. (This is less of a concern when using the flap procedure as described in our blog on mastectomy and reconstruction).
A breast implant may not change over time in the same way that your natural breast would. This could lead to a lack of symmetry. However, using the flap procedure, the breasts may droop as you would expect them to.
Making sure that patients can access all the information they need to make the right choice is vital to ensuring that patients can come to terms with changes and do not feel that sense of disappointment.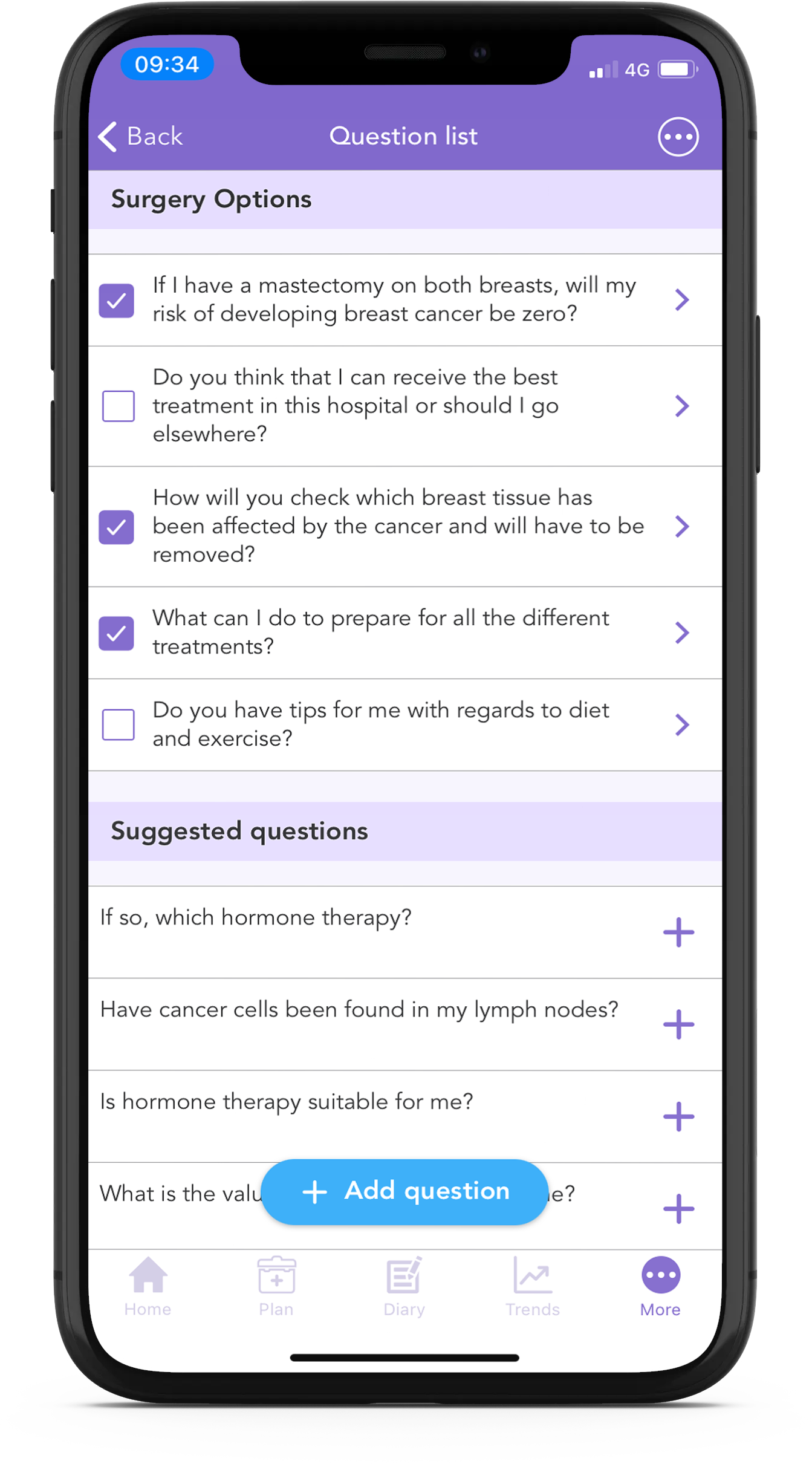 With the free OWise breast cancer app, you can make sure to get the answers you need from your care team with our Question List feature. Based on your profile questions, the app will create a list of suggested questions that you might like to ask in your appointments. You can even add your own questions to ask.
Living post-Lumpectomy
Lumpectomy, as described in our previous blog is also known as breast-conserving surgery, where only the cancer (lump) is removed. However, even if most of the breast is indeed conserved during the surgery, there can still be long-lasting changes.
As tissue is removed from the breast, a lumpectomy can result in a difference in appearance, feel of the breast (often firmer) and sensation and sensitivity of the breasts, compared to before the surgery and to each other. Radiotherapy, often recommended after a lumpectomy, can also cause size, texture and sensation changes to the breast. 
The surgical area will initially be tender and hard, this should subside with healing. However scar tissue can form around the incision and in the area which tissue was removed from. This can cause additional numbness, pressure or pain. Physical therapy can be recommended to manage discomfort or additional surgery to remove the scar tissue.
If lymph nodes were affected and needed removal during the lumpectomy or targeted with treatment afterwards, this could lead to pain under and behind the arm and to lymphoedema. Lymphoedema can develop in the months post-surgery and persist for many years with a gradual onset. The swelling this causes can be uncomfortable and painful and lead to skin infections. Check out these methods for managing lymphoedema.
As lymphoedema is a chronic progressive disorder it is important to inform your healthcare team of any changes to your symptoms before they progress. Did you know you can easily track lymphoedema in the OWise breast cancer app. Using the trends feature you can input how you're feeling each day and then directly share with a member of your care team. Read to the end of the blog to learn more!
Body Image and Mental Health
Body image is also known as self-perception. Even if those around us are supportive and like our appearance, that may have no bearing on how we feel about ourselves. Body image may be particularly difficult to manage post-surgery given the societal expectations on our bodies, particularly those displayed in the media and social media. Not fitting that expectation may certainly have a toll on mental health 2.
Even if you're not particularly worried about how others might see you, you may find that catching a glimpse of yourself in the mirror or touching the area accidentally may serve as a reminder of what you've been through. This could be just about the surgery, or the entire experience of your cancer treatment. Some women also describe the jarring feeling they experience when they see pictures of themselves before their surgery, something which reminds them of everything that's happened since then 3.
In this next section, we'll look at some of the various ways of managing these issues over time as well as where you can find support, understanding and self-management tools.
Finding Community Post-Surgery
As we mentioned previously, living post-surgery can be quite an isolating experience especially as those around you may not understand what you deal with everyday or understand the decisions you made regarding your surgery. Communities and support groups are places where understanding comes as a given, where you don't have to justify your decisions and most importantly, where you're not alone.
Unless medical professionals have had experience of cancer themselves, the practical support they can offer can sometimes be limited. While they may be able to advise you on physical side-effects, there is some advice that can only be gained from someone who has been through it all themselves. Communities and support groups can fill this information gap by bringing people together who all have something to learn from the other.
 Whether it's practical advice about day-to-day issues such as choosing comfortable clothes to wear, or learning about how sex and intimacy may be different now, or figuring out the best exercises and positions to avoid pain in the chest area – the community can be the best place to find your answers. Ultimately, having a good balance of medical and experience-based advice will help keep you informed so that you can make the best everyday decisions for you.
Because of the COVID-19 pandemic many communities and support groups have not been able to meet in-person, and face-to-face support has become harder to access. However, a number of studies have shown that online breast cancer communities can serve as an effective alternative. They have been shown to help reduce isolation, depression and perceived stress over time 4, and can be seen as an important part of the rehabilitation process following active treatment 5. A study conducted during the pandemic itself showed that online groups are essential to gain provisional information and emotional support 6.
Accessing Counselling Support
Even though many women accept or come to accept their post-surgery bodies at some stage, that isn't to say that mourning the loss of the body you had before is somehow not acceptable. In fact mourning is generally accepted as part of the road towards acceptance. And just as with any other kind of mourning, accessing some form of counselling support can give you time to explore your feelings in more depth and come to terms with that sense of loss.
The type of counselling or support can also have an impact. While there is the option of one-to-one counselling, others may find support groups and group sessions with others in the community to be more beneficial. One study has found that accessing both kinds of support simultaneously can have further positive effects 7. A separate study also showed that group music therapy had particular positive outcomes for patients including improving self-esteem and particularly with body image 8.
Reach out to your local cancer support services to see what kind of counselling they are able to provide and choose something that you feel comfortable doing. You may find these easier to access and get started with if you're already a part of the communities we mentioned before. 
If you would like to find out about local community support groups in your area, you can use this Macmillan tool.
Normalising the Post-Surgery Body
Another major way of managing the issue of body-image post-surgery is to familiarise yourself with the post-surgery body. Many women have felt more positive and more confident in themselves after getting used to seeing other women proudly displaying their post-surgery bodies. 'The SCAR Project' a photography collection created by David Jay starting in 2005, shows various women baring their surgery scars. Beyond helping many of the women who were photographed as part of the project, and beyond drawing awareness to the impact of breast cancer surgery in the first place, the SCAR project continues to challenge how women 'should' look and redefine what constitutes beauty 9.
In our society breast cancer is hidden behind a little pink ribbon … [The SCAR Project] presents an opportunity to open a dialogue about issues we are not necessarily comfortable with.

– David Jay, Photographer of the SCAR Project
It's important to remember that you can familiarise yourself with the post-surgery body at any stage, whether before or after your own surgery. While looking at images before surgery may not give you a perfect impression of what yours will feel like, it may still allow you to get used to the image before you go through it yourself. Taking away that shock factor is bound to make the transitional process more smooth and easy-going. For example, the Flat Friends UK Booklet includes images of the different surgery outcomes so that patients can mentally prepare for what to expect.
However, it is important to note that the process of normalising the post-surgery body may be long and difficult for some individuals, and for others, seeing another person's scars may serve as too painful of a reminder. There is no right or wrong way to deal with this, and so we present this as a potential option that could be helpful for some people.
Monitoring how you're feeling
Keeping track of how you're feeling can help give you a clearer overview of how things have changed – that way it won't all seem so much of a blur. You can do this in a journal, diary or even in an app …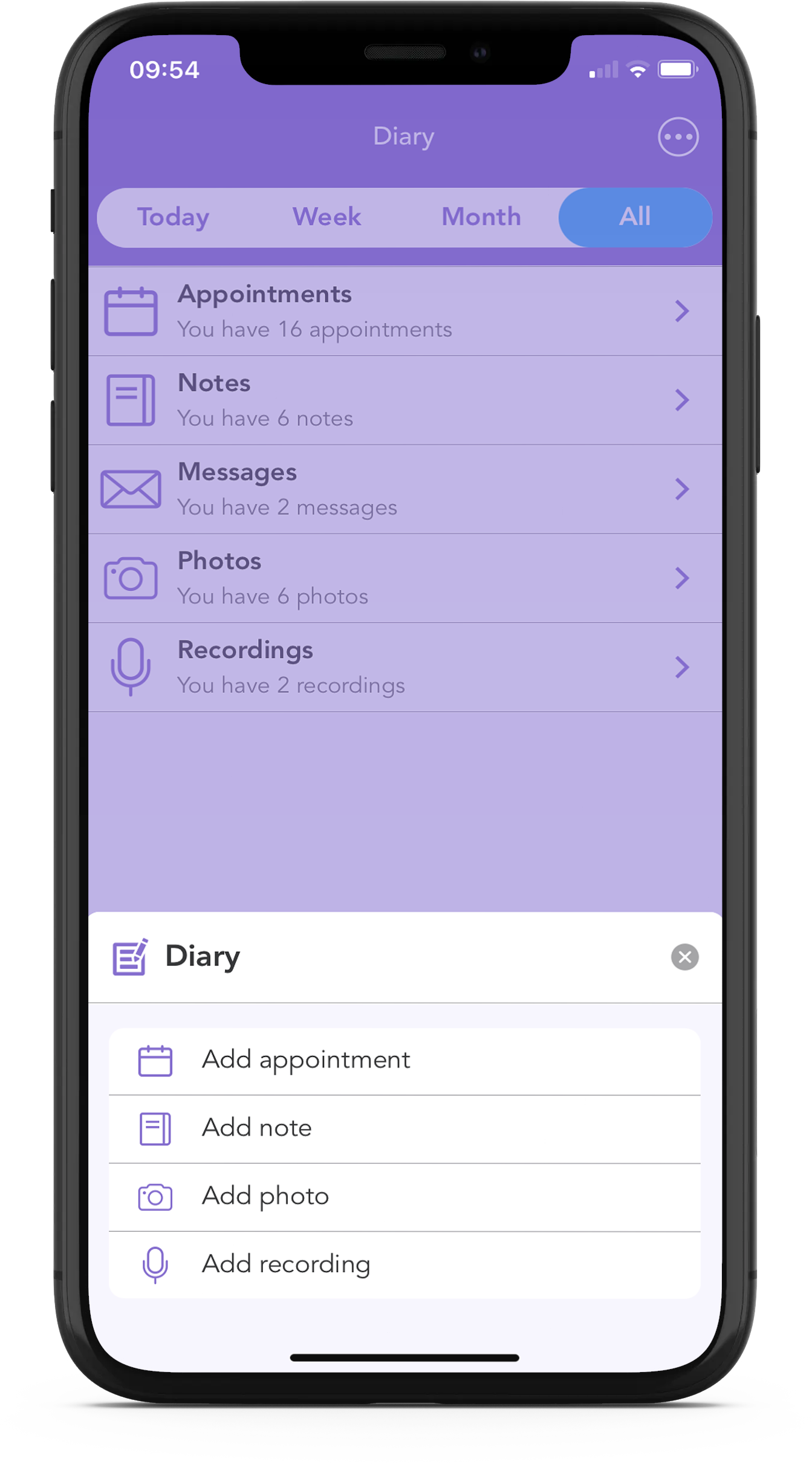 Using the OWise breast cancer app, you have access to a secure diary where you can store notes, appointment dates, sensitive photographs and even audio recordings. You'll then be able to access them at a time convenient to you.
Using the app you can also track certain trends over time. Simply input how you're feeling each day using the sliders, and then view how things develop over time by checking out the graphs. You can even share this with your care team or with a loved one.
Download OWise for free today!
Useful Links
Satisfaction with Breast Reconstruction Results
Going Flat: Choosing no Reconstruction
References
Healthline, 2020, No one Talks about the Emotional Side of Breast Reconstruction, Accessed 22/02/2021 here.
Lindwall, L. and Bergbom, I., 2009. The altered body after breast cancer surgery. International Journal of Qualitative Studies on Health and Well-being, 4(4), pp.280-287
Langellier, K.M. and Sullivan, C.F., 1998. Breast talk in breast cancer narratives. Qualitative Health Research, 8(1), pp.76-94.
Winzelberg, A.J., Classen, C., Alpers, G.W., Roberts, H., Koopman, C., Adams, R.E., Ernst, H., Dev, P. and Taylor, C.B., 2003. Evaluation of an internet support group for women with primary breast cancer. Cancer: Interdisciplinary International Journal of the American Cancer Society, 97(5), pp.1164-1173.
Høybye, M.T., Johansen, C. and Tjørnhøj‐Thomsen, T., 2005. Online interaction. Effects of storytelling in an internet breast cancer support group. Psycho‐Oncology: Journal of the Psychological, Social and Behavioral Dimensions of Cancer, 14(3), pp.211-220.
Moraliyage, H., De Silva, D., Ranasinghe, W., Adikari, A., Alahakoon, D., Prasad, R., Lawrentschuk, N. and Bolton, D., 2021. Cancer in Lockdown: Impact of the COVID‐19 Pandemic on Patients with Cancer. The oncologist, 26(2), pp.e342-e344.
Naumann, F., Munro, A., Martin, E., Magrani, P., Buchan, J., Smith, C., Piggott, B. and Philpott, M., 2012. An individual‐based versus group‐based exercise and counselling intervention for improving quality of life in breast cancer survivors. A feasibility and efficacy study. Psycho‐Oncology, 21(10), pp.1136-1139.
Allen, J.L., 2010. The effectiveness of group music psychotherapy in improving the self-concept of breast cancer survivors (Doctoral dissertation, Temple University. Libraries).
Ehlers, N., 2015. The SCAR Project. Journal of Literary & Cultural Disability Studies, 9(3), pp.331-348.
.