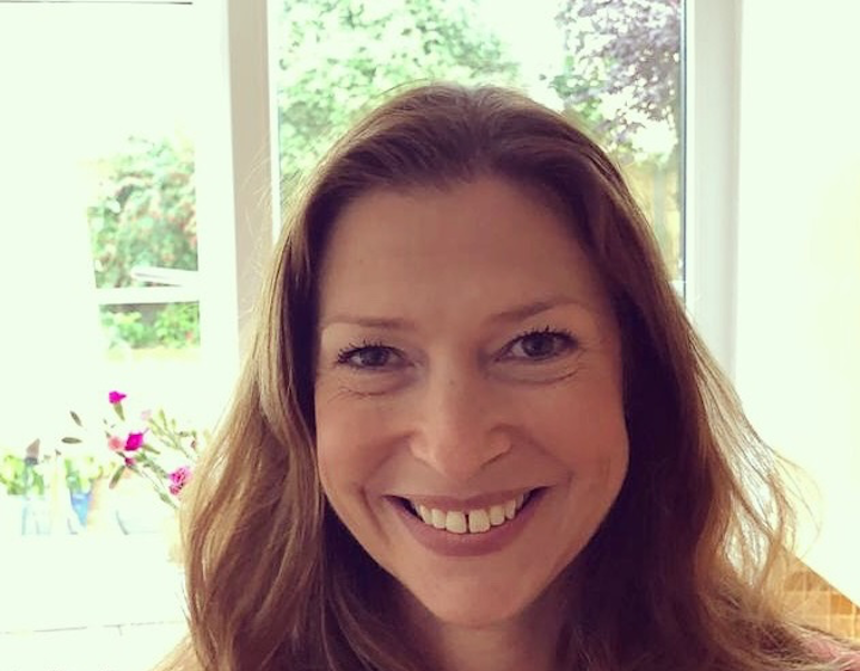 Tell us about yourself
I live with my husband in Hampshire and work as a bid writer within the defence sector. In 2015, I was diagnosed with breast cancer aged 38. After being diagnosed and treated for breast cancer, I wanted to use my personal experience in a positive way to help and support other breast cancer patients. I created my blog A Moon transiting through cancer when I was first diagnosed to help keep family and friends up-to-date and it also acted as a form of therapy. I started to notice that other patients were connecting with me and commenting on my posts. I could really see that by sharing my experiences, it was not only helping me but helping others too. That then became my motivation to keep it going. To connect with other patients and share information and resources that will help and support others. I'm now an active member of several online cancer communities and work with healthcare companies to address patient-related challenges and inform and innovate healthcare solutions.
What was your treatment plan?
I was diagnosed with stage 2 HER+/ER+ breast cancer. I had a lumpectomy and subsequent re-excision surgery. Before starting chemotherapy, I had IVF treatment and an operation to collect eggs for freezing. I then had 6 cycles of fluorouracil, epirubicin and cyclophosphamide (FEC) chemotherapy, followed by 19 radiotherapy sessions (15 to the whole breast area and four booster ones to the tumour/scar site). I then had three-weekly Herceptin injections for a year, monthly Zoladex implant injections for two years and am currently taking the hormone therapy treatment, Tamoxifen (for a total of 10 years). 
What were the main treatment side-effects that you had to cope with?
Initially I suffered from discomfort, pain and a lack of movement in my left arm following both surgeries. My dear Mum made me a 'comfort cushion' which really helped with the soreness. I was initially sick after my first chemo and after feeling a little queasy at times in the first week, luckily I didn't experience any further sickness. My main side effects were sleep disruption from the steroids, tiredness, change in taste and feeling emotional, teary and low at certain points during my cycle. I decided not to have the cold cap treatment and lost pretty much all my hair. That was the most devastating side effect to have to cope with. 
After finishing radiotherapy, I started having Zoladex injections which temporarily switch off your ovaries and put you into a 'chemical menopause'. Coming to the end of my active treatment I was already feeling battered from all the treatments and despite thinking I'd feel over the moon to have got through it all, all I felt was low, teary and upset. To then deal with menopausal symptoms on top exacerbated my emotional state. I started to have counselling with the amazing Breast Cancer Haven charity at that point to try and help me process everything. 
Were there any tools or resources that you wish you had known about when you were diagnosed or was there anything that you felt was lacking during your treatment and aftercare?
Our hospital held a 'Demystifying chemo' session in which the nurses advised us to keep a diary to note side effects. They kindly gave us all a Macmillan organiser, a small ring binder folder, with weekly pages to keep a track of this. It had sections for moods (e.g. best/worst days), fatigue levels, foods eaten and weight monitoring. It also had diary pages to log appointments, keep track of medications and notes pages to write down any questions/issues for upcoming hospital appointments. This was five years ago now and I don't recall there being any online solution or apps with this functionality at the time which would have been useful. 
Could you tells us about your experience testing the new OWise app?
I was really pleased to be able to use my experience of having breast cancer treatment to support the testing of OWise's new app.  This app enables you to store and view all aspects of your breast cancer diagnosis, treatment plan and side effects in one place. It is an easy to use app that can also aid conversations with your medical team with useful functionality to make notes and store questions for all your appointments.  
Do you think that OWise is a useful tool for someone diagnosed with breast cancer?
Yes, most definitely. Whilst I found the Macmillan folder extremely useful at the time, being able to have all this information stored safely in one place on an easy to use app like OWise would have been a real help. This would have saved having hard copy lose papers in a chunky file to carry around. In the trauma and distress of going through breast cancer treatment this app helps you to keep a track of, monitor and share side effects with your healthcare team and to easily store all aspects of treatment in one place. There is also a helpful section of useful links to charities and organisations that provide support for breast cancer patients. 
Favourite OWise feature
I found the OWise app really helps you to get organised. Having cancer requires you to keep on top of a myriad of appointments and remember all the medications, advice and guidance at a time when your head is all over the place and you have so much on your mind. It also has a useful functionality to make notes and store (and even suggest) questions for all your appointments to help conversations with your medical team. 
How has your lockdown experience been?
I have been working as normal throughout lockdown and I work from home a lot anyway, so life in that respect hasn't changed a great deal for me, although I do miss social interactions with my colleagues. I am normally determined to try and do as many things in life that bring joy, make memories and tick things off my bucket list, especially since my cancer experience. We had so many plans this year – France, Ireland, Greece, Glastonbury – but like everyone else, all our plans were cancelled. That's been the hardest thing, not having anything to look forward to or physically being with your loved ones. Having cancer makes you look at life in a different way and you come to accept a 'new normal'. It feels like everyone has been experiencing similar feelings and emotions – being scared, dealing with uncertainty and fear, being on hyper alert about symptoms and changes in your body, worrying about work and finances. But everyone has been experiencing it all together at the same time and coming to terms with yet another 'new normal'.
Allie was part of user testing for the new OWise app which is now available on the iOS App Store and Google Play. If you haven't already, download OWise today.